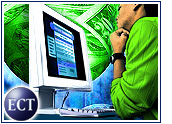 BlueLight.com unveiled a new online shopping reward program Wednesday that will provide free Internet access to its online shoppers.
Starting March 1st, BlueLight will offer shoppers the opportunity to get free monthly Internet service as a reward for buying products through its shopping site. The service is aimed both at new users and the 6 million-plus customers of the free BlueLight.com service, which the company had previously said it would phase out.
As it moves away from its origins as a completely free Internet service provider (ISP), the San Francisco, California-based e-tailer will continue to offer free service of up to 12 hours per month, but charge US$9.95 for 100 hours of service. Shoppers who buy any item at BlueLight will be given one month of free premium access.
Shoppers can then earn up to an additional free month of service for every $50 they spend, up to three free months of basic access.
The company's backer, discount retailer Kmart (NYSE: KM), said it will promote the Internet service both online and in its brick-and-mortar stores.
No Longer Free
The plan is designed to soften the blow to customers as BlueLight moves away from its free ISP model, following the well-worn path of other free ISPs who have fled what has turned out to be a money-losing proposition. Both NetZero and Juno have both struggled with the free ISP business model in recent months.
According to BlueLight, its current services, such as free Yahoo! e-mail addresses, will be maintained during the transition.
BlueLight chief marketing officer Steve Feuling said BlueLight is "now the only major retailer still offering a free Internet service." He called the BlueLight plan "the ideal Internet service for the online shopper.
BlueLight acquired the assets of free ISP Spinway.com during the holiday season. The deal called for BlueLight to maintain its partnership with Yahoo!, which in turn involved marketing agreements with Barnesandnoble.com, Costco and Spiegel.
Big Holiday Gainer
BlueLight benefited from the rise of brick-and-click e-tailers during the holiday season, rating as the seventh-fastest growing Web site in mid-December, according to Jupiter Media Metrix.
Backed by the Kmart name and the chain of stores that bring in $2.5 billion in annual sales and 30 million shoppers into its brick-and-mortar stores each week, BlueLight appeared on several similar holiday sales listings, though it lagged behind Walmart.com and the sites of other traditional retailers.
In addition to its backing from Kmart, BlueLight has won financial support from Japan's Softbank, which kicked in part of the e-tailer's $80 million second round of funding in August. That money came after the startup raised $62.5 million in 1999, a round that included an investment from Martha Stewart Living Omnimedia.