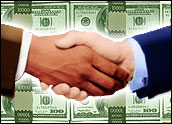 Sunnyvale, Calif.-based network security company Blue Coat Systems has reached an agreement to purchase Cupertino, Calif.-based bandwidth management company Packeteer for approximately US$268 million, or $7.10 per share — a 15 percent premium on Packeteer's closing price Friday of $6.18.
The acquisition and the subsequent combination of operations will enable Blue Coat to further penetrate the wide-area network optimization market, the company said. The deal will also allow Blue Coat to increase its adjusted earnings in the second full quarter. Blue Coat will fund the acquisition through a combination of cash on hand and financing through $80 million in convertible notes.
"Adding Packeteer technology, expertise, channel partners and customer base will give us a competitive advantage that will help drive future business," said Brian NeSmith, Blue Coat's president and chief executive officer.
Packeteer stock was up 79 cents Monday in the wake of the announcement, at $6.97 on the Nasdaq stock exchange. The stock had reached its 52-week low of $3.81 on March 4, after peaking at $10.52 June 1. Blue Coat shares were down 54 cents, at $19.23, Monday morning on the Nasdaq. The stock's year-on-year range was $16.65 and $53.37.
Rejecting a Hostile Bid
"It's an interesting deal," Charles King, principal analyst with Pund-IT, told the E-Commerce Times. "I think it points to the growing importance of corporate network optimization, as businesses continue to build out their IT infrastructures, not only to share data but [also] in delivering applications and services over wide-area networks. Optimizing those networks becomes extremely critical."
About a month ago, Packeteer turned down a hostile bid from hedge fund Elliott Associates for about $200.6 million, or $5.50 a share.
Elliott Associates will terminate its previously announced tender offer for all of the shares of Packeteer and has agreed to sell its 9.9 percent interest in Packeteer to Blue Coat at the same price Blue Coat will offer to Packeteer shareholders.
"We are excited to participate as an investor in Blue Coat Systems, a proven leader and innovator in the WAN optimization and secure Web gateway markets," Elliott Associates' Jesse Cohn said. "Packeteer's industry-leading visibility and QoS (quality of service) technologies serve as a perfect complement to Blue Coat's products and help solidify Blue Coat's position as the clear market leader in this rapidly growing space."
A White Knight
Blue Coat is acting as a "white knight" for Packeteer in saving the company from a hostile takeover attempt by Elliott Associates, JMP Securities analyst Sam Wilson told the E-Commerce Times.
"The risks are high for Blue Coat," Wilson added. "They're integrating sales teams. They're integrating technologies. There are different operations systems. It's a fairly large acquisition for Blue Coat. It's not the perfect match."
Blue Coat will execute cost-cutting measures within six months after the deal closes, he predicted, adding that he has downgraded Blue Coat stock. "You'll see integration over the next few quarters, once the deal closes."
An Attractive Customer Base
Nevertheless, the buy could be advantageous for Blue Coat, King commented. "They did pay a bit of a premium, but it may have been one of those situations where Blue Coat looked at Packeteer's customer base and decided they'd rather have that in-house.
"This should deepen Blue Coat's solution set, and the fact that they're acquiring a company that has a base of 10,000 customers means the investment should pay itself off over time," he added. "It looks like a good deal to me."
The timing may be perfect for Blue Coat, Rob Enderle, principal analyst with the Enderle Group, told the E-Commerce Times.
"During a time of recession, properties get devalued and, with acquisitions, there's less a risk of employees departing," he said. "Anybody with cash on reserve goes bargain shopping. You can eliminate competitors and grow vertically."