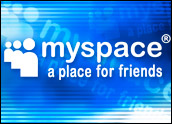 MySpace on Thursday announced a new partnership with ShineReveille International under which original content developed for MySpaceTV will be distributed internationally. The information was revealed at the MIPTV conference in Cannes, France.
Under the plan, online shows such as "Prom Queen," "Quarterlife" and "Roommates" will receive deluxe distribution treatment and make their way into overseas markets on international television and DVDs as well as merchandise.
The alliance grants ShineReveille the exclusive rights to distribute MySpaceTV content as well as coproduced programming abroad, while News Corp.-owned MySpace will retain its rights to distribution in the U.S as well as Web and mobile distribution. Financial terms for the deal were not disclosed.
Seeing if Pilots Fly
More than 110 million users have MySpace profile pages, and the deal will make the social network's video site the "launch pad to virally test and distribute content to the world's largest focus group," according to Travis Katz, managing director of International at MySpace.
That viral testing could see networks turn to MySpaceTV to send out feelers for new television programs without having to undergo the expense of filming a costly pilot episode. Networks routinely fork out millions of dollars to film promising television scripts only to toss the bulk of the filmed episodes in the trash bin.
"Production costs are still going to be expensive" regardless of whether it's a five-minute test pilot or a full-length episode, said John Barrett, research director at Parks Associates.
"If there is content that is going to be unlocked in this way, it is going to be small independent producers," he told the E-Commerce Times. "It's going to be somebody with a very small budget but [who thinks] they have a compelling idea and they rustle up enough funds to start producing 10-minute episodes."
If an independent producer has strong enough production skills and the actors have talent, then getting traction through MySpaceTV could eventually convince a larger, more established production company to package the show to present to networks, Barrett pointed out.
"That would be a compelling idea," he added.
If You Monetize It, They Will Come
For MySpace, the deal offers the opportunity to generate revenue from something beyond advertising placed alongside a video.
"The idea is, if they can farm some valuable content to their Internet site and distribute it, then they can make some money off of it. Really what it is is everybody is kind of experimenting with how to make money," explained Barrett.
Advertising, he said, is one thing everybody can do and is the main thrust for social media sites to generate revenue. That said, these sites are also trying to come up with other ideas on how to monetize by selling things to users directly.