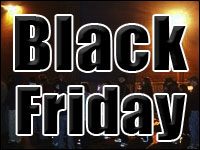 Shopping and sales activity on Thanksgiving Day and Black Friday rocked this year, with online purchases on Black Friday topping $1 billion for the first time.
More than 35 million Americans visited retailers' stores or websites on Thanksgiving Day, up from 29 million last year, the National Retail Federation reported. The following day — Black Friday — a whopping 89 million shoppers hit the mall, up from 86 million last year. Stores also brought in more revenue this year, NRF figures suggest, as the average holiday shopper spent US$423 this past weekend, up from $398 last year. Total spending reached an estimated $59.1 billion.
Reports from individual retailers also pointed to wave after wave of eager shoppers. Walmart, as one example, heralded the huge crowds it saw on Black Friday, calling its Black Friday events the best ever. In particular, there was a huge response to the one-hour guarantee for certain electronic items, it said.
Strong Online Sales
Spending online — including at multichannel retailers like Walmart — is also hitting it out of the park for the season thus far, according to separate figures from comScore.
For the holiday season to date, shoppers have spent $13.7 billion online for a 16 percent increase over the same period last year. Black Friday saw $1.042 billion in online sales, a 26 percent increase year over year, making it the heaviest online spending day so far in 2012. Thanksgiving Day, meanwhile, posted a 32 percent increase to $633 million.
Among online retailers, Amazon was clearly a winner, according to comScore figures. In general, 57.3 million Americans visited online retail sites on Black Friday, for an increase of 18 percent from a year ago. Amazon was the most-visited online retail site for that day, posting the highest year-over-year visitor growth rate among the top five retailers.
Black Friday 2012 online sales were up nearly 24 percent over Black Friday 2011, IBM Smarter Commerce reported.
A Growth Story But What Else?
Now, analysts are taking a deeper dive into the figures generated Friday to determine how the rest of the holiday retail season will play out. Some immediate impressions include a continuing emphasis on value by consumers and the tactical use of smartphones by many consumers.
The latter was on full display this holiday shopping season as consumers jumped from screen to screen to get the best deal, said Jay Henderson, strategy program director for IBM.
"The overall trend was clearly that online sales were up on Thanksgiving and Black Friday," he told the E-Commerce Times. "But we also saw other trends take shape, such as multi screen use by consumers." Consumers used their tablets — namely the iPad — for shopping or browsing on Thanksgiving. On Black Friday, though, their smartphones were leading mobile retail traffic. IBM Smarter Commerce also noted that the number of consumers using a mobile device to visit a retailer's site reached 27.8 percent these past few days.
Many of these visits were by consumers who actually completed transactions — IBM also reported that the number of consumers using their mobile device to make a purchase reached 14.4 percent. A much larger portion, though, was by consumers comparing prices before they plunked down their money.
Price Transparency
"The American consumer is still very much about getting value for their dollars this holiday season," Thom Blischok, chief retail strategist for Booz & Co., told the E-Commerce Times. "There is some loosening of people's guard, though. I think many consumers' attitude is that while they still have to be cautious with spending, they have been good enough with their budgets over the past few years to allow themselves one treat or luxury."
Still, the emphasis on getting the best value is the overriding trend among shoppers — and it is unlikely this trend will recede even as the economy continues to improve.
"Price transparency is only going to get better for consumers as apps become more sophisticated and targeted," Blischok said. "We don't have complete price transparency for consumers yet, but I think we will within a few years."