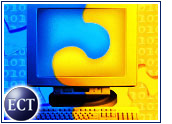 E-commerce mergers and acquisitions may not grab as much attention as such high-tech pairings as Hewlett Packard and Compaq, but experts say the business-to-business (B2B) sector of e-commerce could see its share of consolidation in the coming months.
Experts predict that a still-tough economy and tight competition could spur some big players to give themselves an edge by acquiring the service capabilities of smaller, financially struggling niche providers.
But even the large companies are likely to tread carefully in the current atmosphere.
"Given the state of the overall financial situation in the space, there's a lot at risk," Gartner vice president Larry Perlstein told the E-Commerce Times. "It's not clear who the acquirers would be."
'Bottom-Feeding' Trend
Analysts note that the current slowdown in IT spending has most B2B companies focusing on getting their internal houses in order — cutting costs and refocusing priorities — rather than looking to expand or merge with competitors.
However, Gartner research director David Hope Ross told the E-Commerce Times that there has been a noticeable trend toward "bottom-feeding" in recent months, with companies expanding by acquiring the assets of financially troubled firms. Among the most visible examples has been the buying spree by commerce services provider Divine.
Over the past few months, he noted, Divine has acquired such struggling firms as Synchrony, Data Return, SoftMetric, NetUnlimited, Open Market, Northern Light and Delano. Divine also recently announced a buyout of Viant.
"They seem to be the most active of the bunch," Ross said of Divine's acquisition string.
Also going shopping in recent months was VerticalNet, which analysts noted moved in December 2001 to acquire Atlas Commerce.
"They've not been afraid to make acquisitions over the years," Ross said of VerticalNet.
Most B2B companies, however, have been less prolific in their buying patterns in recent months, the Gartner analysts noted.
Marketplace Marriages
According to Giga Information Group vice president Andrew Bartels, mergers could be on the horizon for some B2B marketplaces servicing the same industry.
Bartels told the E-Commerce Times that a union could take place between two marketplaces geared to buyers of technology materials and services: E2Open (formed by companies including IBM and Hitachi) and Converge (started by firms such as Hewlett Packard and Compaq).
Bartels said other marketplace mergers could be initiated between CPG Market and Transora (which serve packaged-goods companies) and between Enporium and Pantellos (which serve the energy and utilities industry).
As for individual companies, Bartels said it is highly unlikely in the current environment that major firms serving B2B commerce will merge to form even bigger entities.
Instead, the analyst foresees a continuing trend toward big players acquiring established smaller firms that help them fill out their portfolio of offerings — much the same way that PeopleSoft has acquired such specialty commerce firms as Cohera, Anuncio and Calico over the past few months.
IT Pullback Hurts
In the current climate, Bartels said, many large companies are looking to get all their commerce services provided by a single vendor at competitive prices, and they want to work with suppliers that have a solid financial basis.
He noted that some smaller B2B firms have become financially vulnerable due to temporary pullbacks in company IT spending.
"PeopleSoft and Oracle can take the hit. The smaller companies can't absorb it as well," Bartels said.
Bartels said he does not believe bottom-feeding will be a long-term trend, as many companies will find it cheaper to hire talent from distressed firms than to buy the companies outright.
Seeking Niche Players
Rather than looking for troubled companies, he said, the larger firms will be aiming to acquire smaller companies with a strong niche to help them enter new markets.
"Some of these smaller companies are like pilot fish swimming in front of sharks," the analyst said.
Following PeopleSoft's moves, Bartels said Microsoft could also be looking to make B2B-related acquisitions in the coming months. The company has recently acquired such commerce-oriented companies as Great Plains, which makes business accounting software.
The software giant "looks like it is trying to form the enterprise equivalent of Microsoft Office," Bartels said.
Gartner's Perlstein said Siebel is another candidate to go shopping in the coming months in a bid to add to its business service offerings.
"They are still at the top of the list of potential acquirers," he said. "They've got a lot of holes to fill."