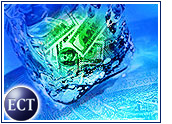 Hard times have come to the e-commerce software industry — and they've come with a vengeance.
Las Vegas, Nevada-based PurchasePro (Nasdaq: PPRO) said October 23rd it was searching for additional financing or a strategic partner, firing half its workforce and cutting senior management pay (*correction).
A week before, Commerce One (Nasdaq: CMRC) said it was laying off 1,300 people — nearly half of its staff — amid a restructuring of the company that will include spinning off some divisions.
Earlier in October, Manugistics (Nasdaq: MANU) cut 180 jobs after a profitable first quarter turned into steep losses in the second.
From Ariba (Nasdaq: ARBA) to SAP (NYSE: SAP), revenues are down and prospects dimming.
"Everyone's suffering right now," David Alschuler, senior vice president of the e-business and enterprise applications division at Aberdeen Group, told the E-Commerce Times. "It's affecting every vendor. But really the ones with smaller market shares and less liquidity are going to have trouble surviving."
Buyers' Market
Alschuler said even leaders in the group — which was among the last to feel the impact of the economic slowdown — have reported flat or decreased revenues in recent quarters. And none have reported an upturn yet.
In the short term, that is probably good news for companies that want to invest in e-commerce software, be it supply-chain management, connections to business-to-business (B2B) hubs and platforms, or even customer relationship management (CRM) applications in the business-to-consumer (B2C) arena.
"Prices are definitely down," Alschuler said. "In the long run, that's not good for the sector, though. The long-range result is going to be more consolidation and less choice in the marketplace."
Mergers Ahead
Judith Rosall, lead analyst in Gartner's e-commerce/marketplace software group, said now is a great time for buyers to strike deals with software companies.
"This is an excellent time for purchasing e-commerce software," Rosall told the E-Commerce Times. "I would predict the software companies would be open to various creative buying schemes, including multi-faceted software bundling and services options."
While larger software firms can withstand the downturn, smaller firms may be scrambling for partnerships or friendly acquisitions, since additional financing is almost out of the question for the sector, Rosall said. Some of these companies might make good buys, she added.
"This could be a bargain-hunter investor's best time to buy, especially if they are looking for best-of-breed e-commerce technologies," Rosall said.
Crystal Ball
However, Alschuler said for many software firms, the name of the game is hanging on in the face of slowing revenues and hoping to be in a position to enjoy the economic recovery.
When that will happen, of course, is still anybody's guess. Forrester Research predicted recently that while some technology spending growth will occur starting in the second half of 2002, it will be two years after that before tech spending roars fully back to life.
"A lot of companies just don't have access to capital and that's going to be a real problem for them," Alschuler said.
Buyer Beware
Over time, that is likely to lead to a wave of consolidation through acquisitions, Alschuler said. But that hasn't happened just yet.
"Everyone's waiting for the bottom," he said. "When the sinker hits bottom and starts bouncing, that's when you'll see the bottom feeding take place."
Playing Survivor
In the meantime, some software buyers have more immediate concerns. Their providers are struggling to stay afloat, making decision-making difficult.
"A year ago, e-commerce site managers were frustrated by the proliferation of software companies," Forrester Research analyst Kyle Johnson said in a recent report. "Now, they're wondering whether the vendors they have will survive and what to do if they don't."
Johnson recommends that companies take risks only in areas that are not critical to the health of a business, and that whenever possible, they obtain access to software source code, to enable future integration even if a software provider is no longer around.

*Editor's Correction Note: In the original version of this article, we reported that PurchasePro said October 23rd that it was searching for a buyer. To clarify, PurchasePro said it was searching for additional financing or a "strategic partner."