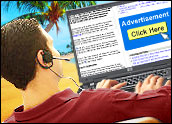 The Association of National Advertisers wants the proposed Google-Yahoo advertising partnership blocked. The trade group — which represents 400 companies that collectively spend over US$100 billion in marketing communications and advertising annually — has sent a letter to the U.S. Department of Justice objecting to the deal.
The New York-based association is concerned that the partnership will diminish competition, increase concentration of market power, limit choices currently available and potentially raise prices to advertisers for high quality, affordable search advertising, according to published accounts.
The association said it has conducted a comprehensive, independent analysis of the impact the agreement could have on the broad advertiser/marketer community, based in part on input from face-to-face discussions with Google and Yahoo.
All told, ANA said, a Google-Yahoo partnership will influence 90 percent of search advertising inventory.
ANA did not return a call to the E-Commerce Times in time to comment for this story.
Regulatory Oversight
Announced earlier this summer, the terms of the 10-year deal allow Yahoo to select and control the search terms Google uses in its advertising placement. Yahoo will continue to leverage its Panama platform for premium content. Also, the deal is nonexclusive and gives Yahoo an exit strategy: After the four-year initial term is over, there are two three-year renewals at Yahoo's option.
Despite the leeway given Yahoo in the deal, advertisers are fretting. The two companies' dominance of the market will only intensify with this agreement, they say.
Indeed, ANA and its members are not alone in voicing their concerns about the agreement. Almost immediately after the partnership was announced, members of Congress launched an investigation to determine whether the tie-up might violate antitrust or privacy laws.
For their part, Google and Yahoo appear to have expected some level of backlash — or at least inquiries from Washington. The two companies promised they would delay execution of their agreement at least until the middle of October to give the Justice Department time to evaluate the transaction — even though, as they pointed out, they were not required to do so.
User Rebellion
Those overtures have done little to quell the growing concerns about the partnership among both small and large advertisers.
"As president of a PR and marketing firm that oversees many Google and Yahoo and MSN campaigns, I can assure you that a partnership between Google and Yahoo would only lead to increased costs to my clients and, ultimately, their customers," Scott Lorenz, president of Westwind Communications, told the E-Commerce Times.
"With some clicks in the $15 to $22 range, it's getting a little pricey right now," he continued. "If they combine, they'll control anywhere from 70 percent to 90 percent of all search traffic, depending upon whose numbers you believe."
With that much of the total available search market under their control, Lorenz speculated, Google and Yahoo could force advertisers to increase their bids.
Indeed, the two companies are already pressuring advertisers to increase bids even without the agreement, he said. "Every month Google and Yahoo come up with some 'great idea' that's going to cost me more money."
"Google has long abandoned the open bidding environment," Mark Kahn, CEO of Traffiq, an online advertising exchange, told the E-Commerce Times. "Ultimately, what they are trying to do is drive more revenue for themselves."
The two companies coming together will not provide any additional value for advertisers, he maintained — "just to themselves."
These issues are writ double large for smaller advertisers,
"ANA represents the largest brands — the P&Gs of the world," Kirsten Mangers, CEO at WebVisible, told the E-Commerce Times. "We deal with local merchants and smaller advertisers, and we are very concerned about these companies having to compete against large national ad dollars on this type of combined platform."
Picture a local plumber in Los Angeles going up against a national account like Roto Rooter Plumbers, she said. "They wont be able to compete."