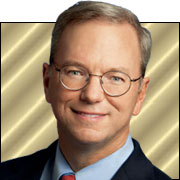 Google Executive Chairman Eric Schmidt might sell as much as 42 percent of his shares in the tech giant, according to an SEC filing.
At the stock's current price of around US$785 per share, the sale could yield about $2.5 billion for Schmidt. He currently owns about 7.6 million shares of Class A and Class B common stock.
Under Google's trading plan, the former CEO could sell up to 3.2 million of his Class A common shares starting this month. He has the option of staggering the trade over a year so as not to disrupt the market.
The SEC filing announcing the trading options said that Schmidt is looking to diversify his personal assets.
Google did not respond to our request to comment for this story.
Google Impact
Investors didn't seem too concerned with the news. The stock was trading slightly down going into Monday afternoon, dropping about 1 percent on the day to around $777 per share.
The move shouldn't draw the stock any lower or alarm investors, said Brian Wieser, analyst at Pivotal Research Group.
"I think it's exactly what Google described it as — personal portfolio diversification," Wieser told the E-Commerce Times. "No impact whatsoever on the company or the stock."
It's no surprise that the move would draw attention because of the potential amount of cash involved, but there probably aren't any hidden motives in Schmidt's possible dealings, said Michael Rappa, director of the Institute for Advanced Analytics at North Carolina State University.
"The stated reason, individual asset diversification, should be seen for what it is — a logical decision for someone in his position," Rappa told the E-Commerce Times. "The move has virtually nothing to do with Google and everything to do with him sensibly managing his wealth."
What's Up Next?
In some cases, a major decision to cash out could be an indication that an executive is planning to move in a different direction. In this case, though, Schmidt doesn't necessarily have a reason to separate himself from the company, said Rappa. Google could be a useful springboard if Schmidt were planning to use some of the fresh cash for future exploration or investment in the industry.
"What's interesting is to speculate about what he plans to do with his wealth," Rappa noted. "It's hard to see him retiring. He's probably aiming to reinvest in exciting new areas of technology."
Schmidt could also be hoping to stay active in the public arena, perhaps in a more official capacity, Rappa added. Schmidt recently traveled to North Korea as part of a nine-person team in a trip arranged by former New Mexico Governor Bill Richardson.
The visit was not officially sanctioned and drew criticism from some members of Congress. Schmidt called the trip a "private humanitarian mission," saying it was designed to encourage North Korean officials to rethink the policy of isolation and open more pathways to online connectivity for its citizens. He has also served as Google's representative in some of the company's dealings with governments on issues of antitrust regulations and other business practices.
Schmidt could be hoping to do more such work in the future, said Rappa, either running for office or positioning himself to be an ambassador or humanitarian representative.