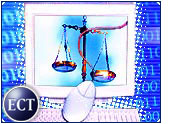 Online auction site BidBay.com said Thursday that it has filed a motion to dismiss the trademark infringement lawsuit recently filed against it by Internet auction giant eBay (Nasdaq: EBAY)
In papers filed in U.S. District Court in San Jose, California on Tuesday, Tujunga, California-based BidBay contended that the case should be dismissed for filing in the wrong courthouse, and that if the case proceeds, it should be handled in the more appropriate venue of the federal district court in Los Angeles.
In the complaint it filed against BidBay on July 30th, eBay alleged that BidBay is infringing on theeBay trademark with its use of "Bay" in its name and with the overall look-and-feel of the BidBay Web site, including its similar multi-hued color scheme.
BidBay attorney Barry Sabahat told the E-Commerce Times that although the motion to dismiss "is not likely to dispose of the case entirely," he believes that BidBay's chances of succeeding with its argument that the case was filed in the wrong court are "great."
Said Sabahat: "We are simply trying to compete and are doing so in no manner that is likely to confuse users of eBay and BidBay."
Look Here
Forrester analyst James Crawford said that in his opinion, BidBay will not likely be forced to change its name, but he does not think BidBay is likely to get out from under most of the infringement charges pertaining to its Web site's look-and-feel.
"eBay may end up having to sue in another venue," Crawford told the E-Commerce Times. "But BidBay will not skate on a technicality."
eBay declined to comment on BidBay's motion.
Splitting Hairs?
Sabahat said that eBay's accusations pertain more to aspects of functionality rather than to look-and-feel — which, he argues, makes all the difference.
"You cannot trademark functionality," said Sabahat.
BidBay founder and chief executive officer George Tannous told the E-Commerce Times that eBay has cited his company's use of category names found on eBay.
"How can we be expected to come up with another name for 'automotive'?" Tannous asked.
No Contest
Crawford cited eBay's dominant position in the online auction space and suggested that BidBay is not a worthy competitor, in terms of market share or growth potential.
"eBay has earned [its dominant position] by legitimately offering superior customer service to sellers, thereby attracting an overwhelming majority of sellers," said Crawford. "Buyers will go where the products are."
BidBay says that it has nearly 5 million users and that more than $153 million in bids have been placed in the past year. By comparison, eBay has more than 29.7 million users who generated over $5 billion in transactions last year.
Two's Company
Sabahat insisted that there is more than enough room in the online auction space for two winners, and that there is enough business for multiple players.
Said Tannous: "I began BidBay as an alternative to an eBay site that was more concerned with monopolizing the market than providing a customer-friendly product. BidBay's success and this subsequent lawsuit prove that I was right."
Tannous also said that he is optimistic about the future and mentioned the forthcoming introduction of BidBay Search, a search function for the entire World Wide Web, similar to GoTo.com.
Far From Over
Forrester's Crawford expects the legal battle to drag on indefinitely, which in itself may be the silver lining for BidBay.
"The best thing BidBay has going for it is all the free publicity this case will bring them," said Crawford. "It's the best thing that could ever happen to it."
In an almost Hollywood twist, Tannous originally purchased the BidBay name on eBay for $1,000 from seller Alvin Black.