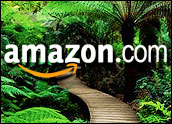 Amazon.com will launch a new streaming video service in the next "several weeks," CEO Jeff Bezos said Wednesday.
Speaking at The Wall Street Journal's three-day D6: All Things Digital conference in California, Bezos also said his company is "very serious" about music and movies, and is currently readying a streaming version of video on-demand.
He did not elaborate further, and company officials declined to provide more information. Amazon has "nothing further to announce at this time," company spokesperson Heather Huntoon told the E-Commerce Times.
Kindle Price Drop
Bezos's announcement comes hard on the heels of recent news that Amazon had dropped the price of Kindle, its electronic reading device, from US$399 to $359.
Speaking with the Journal's Walter Mossberg at the conference, however, Bezos stressed that the price cuts were not in anticipation of the imminent release of a newer model.
Eventually, Bezos added, "the vast majority of books will be read on electronic devices," and Amazon expects such devices to account for a "meaningful component" of the company's revenues.
iTunes Slayer?
Amazon has been working to increase its digital media offerings in order to better compete with rivals such as iTunes. Besides Kindle, which it launched not long ago, the Seattle-based company has begun offering digital music, downloadable movies, television shows and videos on its site.
Bezos stopped short, however, of saying that it was taking direct aim at iTunes.
"So is iTunes going down?" Mossberg asked. "No," Bezos replied. "That's not what I said."
Integrated Streaming
Amazon has also forged a deal with TiVo that lets users rent videos from Amazon's Unbox service and watch them on their TVs.
Asked whether movies will be delivered in an integrated fashion or via a separate box in the coming years, "My own guess is that separate boxes are an intermediate step," Bezos asserted. "Streaming capabilities will be built directly into television sets."
Netflix, meanwhile, just recently said it is also working on streaming video offerings.
Price, Selection, Quality
"I think this is the way the whole industry is going," Greg Sterling, founder of Sterling Market Intelligence, told the E-Commerce Times.
"We're a few years away from this being a mainstream phenomenon, but it will eventually replace the video stores and soon the whole Netflix model will be obsolete," Sterling noted. "It's going to come down to price, selection and quality."
'Innovative Company'
Indeed, "I applaud the development," Phil Leigh, senior analyst with Inside Digital Media, told the E-Commerce Times. "I'm not surprised because Amazon is an innovative company that clearly understands what the consumer wants out of the Internet."
What we'll ultimately see, Leigh added, is that "a big part of music and video will come over the Internet in ad-supported business models. As far as video, I wouldn't be surprised to see them rely increasingly on overlay ads."
Not a Big Threat Yet
iTunes doesn't have too much to fear yet, Leigh asserted.
"I don't think it's going to move the needle on iTunes — certainly the Amazon music store hasn't," he said.
Whatever Amazon gets will be largely dependent on what the studios provide, Leigh added. "They're not going to shoot themselves in the foot if they think they can make more money out of iTunes."
Layered Service
A streaming business could make good sense for Amazon, Kurt Scherf, vice president and principal analyst with Parks Associates, told the E-Commerce Times.
"We've been trying to find some pulse in the movie rental business, and what seems to be working — what we think is going to work — is not necessarily a stand-alone service but one that layers on top of an existing service," he explained.
Netflix, for example, has 100,000 DVDs to rent plus 10,000 movies and TV shows available via streaming, Scherf said. "For Netflix, streaming makes a lot of sense and is a good value-added feature," he noted.
Better Analytics
"I think it's going to allow them to use some analytics," Scherf said. "If they can understand more about what people are watching online, they can better match their premium content."
Amazon, too, has already "done a great job of building an analytics-based business," he concluded. For that reason, he said, a streaming service "could fit nicely with its core DVD sales business as well."