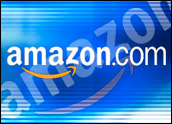 Amazon.com launched a text-message shopping option Tuesday that enables users to search for, compare and buy products via short message service, in addition to its existing browser-based mobile commerce offerings.
TextBuyIt, as the service is known, joins Amazon's mobile site and a site dedicated for access with the iPhone in Amazon's mobile arsenal.
To use the service, consumers send a text message to Amazon containing the name of the product they are seeking or, if they know it, the UPC code of the item. Amazon responds with matching products and prices, each with a single-digit number alongside it. Customers buy items by responding with a text containing that number.
Shopping Anytime, Anywhere
Amazon then follows up with a phone call to the device that sent the text confirming the order. Using e-mail addresses and ZIP codes as identifiers, the service also accesses a customer's existing Amazon account, including their preferred payment methods.
The service will enable people to shop anytime, anywhere, the e-tailer said. Likely uses include the purchase of a CD after a music concert or buying a book that a friend recommends at dinner, noted Howard Gefen, director of mobile payments at Amazon.
Though mobile commerce remains a small market, Amazon has moved to lay the foundation for a strong presence in the space. Most of the features on its Web-based site, such as customer reviews, discounted shipping and one-click checkout, are now available for mobile browsers.
Dial M for Commerce
Mobile commerce, or m-commerce, has been a red-hot buzzword since the earliest days of the dot-com craze. Though it has gained steam in overseas markets such as Japan, where mobile devices are widely used to make payments in person and over the Internet, it has grown much more slowly in the U.S.
The relative awkwardness of mobile browsers and security concerns have hampered m-commerce growth. Last year's launch of the iPhone from Apple and the subsequent releases of similar devices from competitors are helping to pave the way for more mobile buying as consumers now have access to more robust mobile browsers.
Still, consumers remain reluctant about mobile purchases. They are twice as likely to use their mobile phone to check prices or find stores than to order or pay for items, according to a survey conducted by Gartner last year.
"Mobile commerce is still pretty much in its infancy," JupiterResearch analyst Michael Gartenberg told the E-Commerce Times. "But this is the type of service that can give it a jump start because it really leverages the ubiquity of that mobile phone in your pocket."
In addition to impulse buyers, the service may have legs as a comparison tool for shoppers. For instance, a consumer who sees an item in a store can quickly check the price at Amazon, use that information to bargain for a lower price in the store, decide to buy later from the Web or complete the purchase online on the spot.
"It's a good set of services and it's coming at a good time," Gartenberg added. Mobile browsing still has its limitations, he added, and text messaging is no longer the youth-only novelty it was just a couple years ago. "The fact that I can kind of automate this process through text messaging and voice automation that links the two together makes this much more appealing."
In Amazon We Trust
Amazon may have the power to give mobile commerce a boost because it has become a trusted online brand thanks to its longevity as an e-tailer and its sheer size.
Still, mobile may be better seen as part of a larger, multichannel push for Amazon, Forrester Research analyst Carrie Johnson told the E-Commerce Times.
The text-based service is important as "another touchpoint between consumers and a retailer they trust," she said. Registered users in particular may be able to benefit from the ability to recall a mobile search from a Web session, for instance. Direct sales via text messages will still likely remain small for time being, but the long-term impact significant. "Amazon has made it clear it wants to protect its turf on the mobile side."
Amazon shares rose 1.5 percent in midday trading Wednesday to US$77.80.