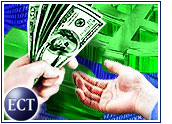 E-commerce service provider Beyond.com (Nasdaq: BYND) launched an online software and hardware shopping mall Monday, offering computer-related products from Beyond's eStore clients.
"The mall is a marriage between our old retail site and our eStores — leveraging our brand, but still directing consumers directly to manufacturers," Beyond.com vice president of marketing Jim Campbell told the E-Commerce Times. "We still want to allow people to buy from Beyond.com, while driving more traffic and incremental sales for our eStore clients."
According to Campbell, the shopping mall addresses a commerce conundrum the company faced, stemming from its two-pronged offering of an online store and an e-commerce hosting and management service. Indeed, Beyond.com was selling some of the same products as its eStore clients were.
"We were doing business on two sides of the fence, through Beyond.com and with eStores," said Campbell. "The timing was right to bring the two together."
From One to Many
Launched in 1994 as Software.net, Santa Clara, California-based Beyond.com's original offering was an online retail store. However, the company now focuses on building, hosting, and managing online stores, called eStores, for clients like McAfee.com, Interact Commerce, PGP Security, Sybex, and Sonic Solutions.
The newly launched mall aggregates these eStores into a single product portal that allows consumers to purchase products directly from manufacturers and from Beyond.com's affiliate partners.
Spreading the Word
The shopping mall's main objective is to provide eStore clients another avenue for exposure, traffic and sales, according to Campbell.
PGP Security, a Network Associates business that offers security and privacy products, has had its eStore for two months and expects the Beyond.com shopping mall to become an important marketing tool.
"Before the shopping mall, people had to know the name of our eStore to get to it," PGP vice president of marketing Jeff Jones told the E-Commerce Times. "Beyond.com did not facilitate locating all the eStores. The new method changes that."
Jones said that his company's eStore has already more than paid for itself, and that an international version will launch before the end of 2001. The increased sales earned Jones' support for the original PGP eStore, and he surely will be watching the same metric as Beyond's shopping mall gains its footing.
Industry Coverage
Beyond.com will continue to derive its revenue from transaction fees collected from eStore clients. Campbell said that all 23 eStore clients and newly launched eStores will be listed in the mall.
The mall is organized by categories such as developer tools, handhelds, and Internet and security, with some manufacturers featured in each category.
"Whichever manufacturer is the most aggressive and anxious to promote their products will get the key real estate in the mall," said Campbell.
If shopping behavior reveals a high demand for products or categories that are underserved by the mall, Beyond.com will work to meet the demand with new eStore clients and affiliate partners, Campbell said.
Staying the Course
Today, shoppers cannot search the mall by product type, but must browse by category and by manufacturer. Campbell said that a search capability will be added soon.
Campbell added that Beyond.com does not intend to try to topple e-tail giants like Amazon and eBay with its shopping mall. Rather, the company will continue to focus on its core eStore business, and will use the mall as a promotional and marketing vehicle for its eStore clients.