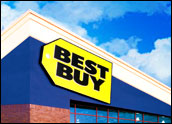 Best Buy has named Hubert Joly the company's new CEO, the electronics mega-retailer announced Monday.
The struggling chain, which faces growing competition from online and discount retailers, said it chose Joly for his expertise in turnaround and growth.
Prior to taking the position at Best Buy, Joly was the CEO of Carlson, the restaurant and hospitality chain that includes runs businesses such as T.G.I. Friday's and Radisson. He also worked in the tech industry with Vivendi's video game business, now part of Activision Blizzard, and oversaw a turnaround at EDS, which was eventually acquired by HP.
Joly, a native of France, is expected to take over in September when is visa is in place. He will succeed Mike Mikan, who has held the position of interim CEO since April. Mikan took over from former CEO Brian Dunn, who left the company amidst allegations of an improper relationship with an employee.
At the company's shareholder meeting in June, Mikan pitched a turnaround plan to investors, including improving customer service training and shrinking the chain's retail store sizes. So far, Joly has not indicated whether he has similar plans to help Best Buy better compete against online and discount electronics retailers.
Investors did not respond favorably to the news. The stock dropped over 10 percent for the day to close at US$18.16 per share Monday after the news broke.
Best Buy did not respond to our request for comment.
Schulze Out…
Joly's job will be stepping in shortly after the company's founder stepped out. Richard Schulze, who at one time also served as the company's CEO, left his position as Best Buy's chairman in June. However, he remains the company's largest stakeholder with about 20 percent of the company.
After he departed, he announced he was in discussions with private equity firms and former Best Buy executives to initiate a takeover.
Earlier this month, he offered $24 to $26 per share to buy Best Buy. On Monday, Best Buy announced it offered Schulze the opportunity to conduct due diligence for a possible acquisition. The board gave him a 60-day deadline to come forward with a completed proposal for a takeover. Best Buy said Schulze declined the offer.
Later, Schulze said he was "disappointed and surprised" by the board's "abrupt" end to negotiations. Schulze said change is needed quickly at the company and the board's initial proposal of an 18-month standstill was unacceptable.
… and Joly In
With Schulze's takeover plans derailed, Joly will have a relatively clean slate to work with at Best Buy, especially coming in as an outsider, said Mary Campagnaro, a partner at Allen Austin Global Executive Search.
"Joly already has the trust of the board, that's inherent to getting the position," he told the E-Commerce Times. "What he needs to do now is build rapport and use, use, use the board. They are there for a reason and often go under-utilized by officers of the company that may look at them as only an entity to which they must report numbers."
As an outsider, it's key that Joly can come in and use the board and promote growth without dismantling the company as its known now, said Sheila Madden, CEO of Madden Coaching & Consulting. Joly previously proved that's possible, she said.
"He did this so well at Carlson," she told the E-Commerce Times. "You have to leverage and build upon the brand, the current customer base and market, and you need to create and evolve a new vision for the next generation of Best Buy."
It might be difficult for Joly to envision that next generation, since he doesn't have the experience in electronics retail that some of Best Buy's other CEO candidates might have, said Madden. Although it's often better to bring in specially experienced professionals, Joly has the experience to lead at this level, said Madden, especially if he can assemble a strong team.
"He has a proven track record of successfully leading organizations across sectors," she said. "In some ways, coming in with Learner's Mind is an advantage. He will ask all the 'dumb' questions and sometimes that is exactly where innovation comes from. He will, however, need to surround himself with a leadership team that includes people from the industry and who support his vision so that he can accelerate operational pivots and progress."