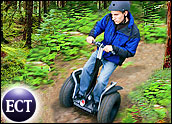 Best Buy is rolling out a pilot program for a new product category: electronic bicycles, scooters and Segways. The company has announced it will be selling these vehicles in 20 stores in Washington, Oregon and California, with electric motorcycles to join the mix later this summer.
There had been expectations that Best Buy would be dipping its toe into the electric motorcycle market.
Earlier this spring, the retailer announced it would be sponsoring Brammo's electric motorcycle racing team in the zero-emission TTxGP motorcycle grand prix. Retailing the manufacturer's electric street bike seemed to be a logical next step.
However the move announced by Best Buy is more expansive than merely providing an outlet for Brammo. Twenty markets is a sizable universe for a test case, even though the company says it doesn't have plans to expand to other markets.
Best Buy told the E-Commerce Times it wasn't providing any comments to amplify its statement.
Growing Mandate
If current trends are a good indicator, Best Buy is likely to make this category a permanent part of its product lineup and expand it to at least its entire U.S. market. Despite the eroding margins caused by the recession, green products and technology are viewed as a hot market, Greg Belkin, a research analyst with the Aberdeen Group, told the E-Commerce Times.
Indeed, in a survey for a report published last year, "Getting From Green to Gold: Retail Success Factors and Outcomes," 57 percent of respondents said the desire to gain a competitive advantage was a chief driver in focusing on green or sustainable supply chains or product development.
In that same report Aberdeen also found that products focused on sustainability led to increases in customer acquisition and satisfaction.
No Back-End Heavy Lifting
Best Buy's approach is an interesting one, Belkin said. "They are increasing their visibility and competitive advantage with this move — but without a lot of changes or major lifting in their back end. Given the declining sales of consumer electronics such as computers, this is an excellent foray into a new and growing category."
Best Buy is targeting one of the few high-margin categories that retailers feel comfortable experimenting with, Maryam Morse, a consultant with the Hay Group, told the E-Commerce Times. "The current trend for retail is low-cost, low margin basics."
That said, the demand for green or sustainable products is similar to the burst of demand seen a few years ago around organic food, Morse continued. "This new push by Best Buy does have its risks — but it also has all of the elements of success."
Tax Credits and Other Savings
One selling point for cost-conscious consumers is the possibility of tax credits that can accompany the purchase of a plug-in vehicle. Earlier this year, Zero Motorcycles announced that its upcoming line of street legal electric motorcycles would be eligible for the just passed 10 percent federal tax credit. Zero Motorcycles was part of the coalition of electric motorcycles,Plug-In America, that lobbied to ensure the plug-in tax credit would be expanded to include all plug-in motorcycles.
Demand is growing for electric motorcycles, Gene Banman, CEO of Zero Motorcycles told the E-Commerce Times. "There are a number of advantages for these products besides the fact that they are very green — they are economical to run and very low maintenance, with only one moving part in the drive train. They also very quiet."
The Best Buy test run is significant for the industry, said Banman. "As electric motorcycles become more popular and in more demand, we will see a lot more experimentation with the distribution model. There will be new styles of distribution that are not dealer-centric."