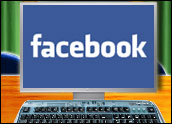 Facebook continues to feel the ramifications of its controversial Beacon advertising platform, which for a short while last year broadcast information about the social networking site's users' activities without their express permission.
A class action lawsuit has been filed against Facebook as well as several partners that participated in the program, including Fandango, Blockbuster, Overstock.com and Hotwire. After a significant user backlash, Facebook put in place more stringent controls for users to keep certain activities — such as what they are buying on Overstock.com — private, including the ability to opt out of the program completely. But for roughly a month, users' activities on these partner sites were an open book.
The suit, Lane et al v. Facebook, Inc., was filed in the U.S. District Court in San Jose.
Advertising Overreach
At this point, Facebook no doubt wishes it never heard of Beacon, which has come to be regarded as a poster child for overly intrusive online advertising. Facebook's reputation and brand took a serious hit, the site drew regulatory scrutiny, and now it faces a class action lawsuit.
There will be a number of legal stepping stones the various parties will have to deal with before this case ever reaches the court — if it even does. However, the fallout from that first iteration of Beacon continues to impact the online ad industry, which learned some valuable lessons about how much information consumers are willing to cede to the sites they use.
"It used to be conventional wisdom that people under 30 don't care about privacy," Mike Troiano, CEO of Matchmine, told the E-Commerce Times. "It turned out they definitely care about controlling [their] own data — and in the end that is how Beacon really pissed people off."
Facebook is paying the price for being first, Simeon Spearman, futurist with Social Technologies, told told the E-Commerce Times. "It seemed like a promising technology at the time, positioned to put Facebook that much more at the head of the game."
It's All About Control
Indeed, many companies have recalibrated their online advertising strategies in response to the Beacon fallout. "These sites have become much more sensitive to giving users control of their own information," Troiano said. But he doubts the class action suit will have a chilling affect on Web 2.0 development. "We are just at the formative stage in the use of social networking as a promotional vehicles. People will be more cautious, but that won't stop the innovation."
"Social networks now know they can't take people's private information and make it public without asking for permission first," Denise Shiffman, author of the Web 2.0 marketing and business book The Age of Engage: Reinventing Marketing for Today's Connected, Collaborative, and Hyperinteractive Culture, told the E-Commerce Times. Generally people are happy with these networks when this basic control is in place, she said.
To the Forefront
However, the discussion has broadened beyond just giving consumers a right to opt out, in part thanks to Beacon, which illustrated in real time just how much information these platforms are gathering about users.
The class action lawsuit will have an impact on how Web 2.0 companies decide to use consumer data as a means of monetizing their services, Spearman predicted.
"A lot of the startups think that using consumer data is a magic bullet for cash flow problems. If the law and lawmakers begin to take online privacy violations more seriously, these companies will have to rethink their strategies as they move forward."
The case may wind up being good for the industry, Spearman said, as it would clarify once and for all how such data is to be used by these sites. "Companies will then create similar offerings but [ones] that are more responsibly executed."