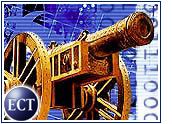 Georgia and Texas are among the U.S. states grappling with the issue of Internet alcohol sales, after a federal law went into effect last month giving states more control over alcoholic shipments to consumers in their states.
The Georgia State Senate approved a bill Tuesday that would regulate the delivery of alcohol sold by e-tailers, while battle lines are being drawn in Texas over pending legislation.
Girding up on one side of the debate are those who believe that allowing Internet alcohol sales makes it too easy for minors to obtain beer and wine. On the other side are those who believe that allowing Internet alcohol sales gives consumers access to specific products that may not be available in their hometown.
"The advent of telemarketing, catalog and Internet sales has brought with it an exponential increase in the number of illegal interstate shipments of alcohol," said Juanita Duggan, executive vice president and chief executive officer of the Wine and Spirits Wholesalers of America.
"This, in turn, has cost states millions in lost excise tax receipts, created an unlevel playing field for merchants and customers who play by the rules, and established an unregulated avenue for our teenagers to obtain alcohol without valid IDs," Duggan said.
Georgia Regulates
The Georgia bill — which was approved by the state Senate 38-11, and is expected to pass the state House when it is taken up there later this week — provides for strict regulation of home delivery of tobacco and alcohol ordered via e-commerce.
"The Electronic Commerce Home Delivery Amendment" tackles the issue of regulating the delivery of alcohol and tobacco products by e-tailers who bring merchandise directly to a consumer's door, often within one to two hours.
Under the legislation, all home deliveries of any alcohol or tobacco products must be accompanied by at least US$50 in other purchases. Additionally, any home delivery order of alcohol will have a built-in delay of four hours.
Sending a Message
At this time, only e-tailers located outside of Georgia are allowed to ship alcoholic products directly to consumers, usually through the U.S. Mail or other delivery channels.
"This vote sends a strong message that Georgia will continue to support and invest in electronic retailing, which is a big part of our New Economy," said Democratic state senator Ed Harbison, who sponsored the bill. "It is important that we maintain a competitive business environment that fosters continued investment across our state."
The bill could be a boon to e-tailer Webvan, because most of the company's requests are large grocery orders. However, the bill may not help rival Kozmo, whose business model is based on delivering small orders within an hour. Kozmo recently announced that it was refocusing its business away from the Web and toward a catalog-and-phone-based structure.
Texas Battles
Meanwhile, under current Texas law, the interstate shipment of alcoholic products is illegal. The Licensed Beverage Distributors (LBD), an Austin, Texas-based industry association representing wine and distilled spirits wholesalers within the state, is fighting to defeat a pending proposal that would reverse the status quo.
"Direct shipment would open Texas' borders to an influx of untaxed, unregulated alcohol that could easily fall into the hands of Texas teens and invade our dry counties," LBD executive director Robert Sparks said.
Sparks said that based on a poll conducted by the LBD, about 85 percent of Texas voters believe that "the direct sale of alcohol over the Internet or through the mail should not be allowed, because it gives minors easy access to alcohol and could result in more abuse."
Battling to give Texans the right to have alcohol delivered to their door from out of state is Napa, California-based Free the Grapes. That organization argues that current law blocks Texans from ordering rare wines online that may not be available in their hometown, and hurts Texas wineries because 12 states have reciprocal shipping laws, blocking Texas wineries from having access to potential customers in those states.
Feds Give Power to States
States are rushing to write statutes governing the home delivery of alcoholic beverages because on January 26th, the Twenty-First Amendment Enforcement Act went into effect, giving a state the right to crack down on out-of-state merchants shipping alcoholic beverages into the state in question.
The Act allows states to exercise jurisdiction beyond their own borders and court systems, and to seek federal court injunctions against out-of-state businesses that violate state laws against the illegal shipment of alcohol beverages.
"This new law means states will finally have recourse when it comes to out-of-state vendors who violate state alcohol control laws and regulations," Duggan said.
"Legal interstate sales are not affected by this law," Duggan added. "But those vendors who sell alcohol to our teenagers, or who deliver alcohol beverages with no questions asked, should be aware that this new law exists and that it will be enforced."
In addition to Texas and Georgia, laws affecting the Internet sale of alcohol are currently pending in a number of other states, including Connecticut, Indiana, Massachusetts, Nebraska, Rhode Island and South Dakota.