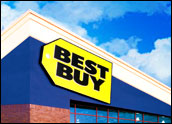 Best Buy founder Richard Schulze is exploring a private takeover of the electronics retail chain, according to The Wall Street Journal.
Schulze is the largest company shareholder with about a 20 percent stake in Best Buy. He has reportedly conducted discussions with Wall Street banks to determine the best strategy for a buyout but has met resistance from the company's board of directors.
Schulze founded the company in 1966 and over the years has served as CEO and chairman of the board. He left his position as chairman earlier this month, following a scandal in which the company's CEO, Brian Dunn, was squeezed out, reportedly over an inappropriate relationship with a female employee. At the time of Schulze's departure, the founder said he would explore all available options for his ownership in the company.
Shareholders Not Biting
The road ahead will be tough for Schulze if he means to take over Best Buy, said Rob Enderle, principal analyst at Enderle Group.
"It's very hard for an individual to do a buyout like this unless they've got some board support," he told the E-Commerce Times. "In lieu of that, or probably in addition in this case, some of the big investors would also need to help, and it doesn't look like he has that support right now."
Judging by recent actions taken by the board and company executives, Schulze may not have that support. At a meeting last week, the company changed its bylaws regarding the minimum threshold of ownership required for a shareholder to call a special meeting related to change of control. It was previously at 10 percent, and the board increased it to 25 percent, putting the bylaws in line with Minnesota statutes. It also places Schulze, with his 20 percent stake, outside of the threshold.
Company executives also awarded retention bonuses totaling US$2 million to its four top executives, apparently aimed at keeping Best Buy's talent in-house as the retailer transitions to new leadership. Under the agreement, if the executives were to leave before a new CEO is in place for a year, they must return the cash.
Schulze might have to swing for a hostile takeover, said Enderle, which probably wouldn't work out well for him.
"A hostile takeover would be incredibly expensive at this point, and I'm doubtful he could come up with that cash," said Enderle.
New Plan of Action
The board's actions make it clear that Best Buy is ready to move in a direction away from Schulze, said Anthony Chukumba, senior research analyst at BB&T Capital Markets.
Schulze originally announced a plan to remain serving as a director through a major shareholder meeting in 2013, but his abrupt departure came after an internal investigation revealed that he'd confronted Dunn about the alleged inappropriate relationship with the female employee. During that discussion, Dunn denied that the relationship existed, but Schulze did not report the meeting to the board of directors. Dunn left weeks before Schulze departed.
"To some extent we've been getting the feeling that the company is ready to move on for the last few months now," he told the E-Commerce Times. "Before he left the company, he wasn't on the search committee, which clearly showed that they were ready to move in a different direction."
Schulze and other executives at Best Buy have taken criticism for failing to adopt to the changing retail landscape. The company has reported continued sluggish in-store sales recently as online competitors such as Amazon offer the same products at lower prices.
"If you're a private equity firm, you might not be terribly excited to team up with Schulze," said Chukumba. "A lot of people make the argument that they're in the predicament that they are because of his inability to adjust to the new ways of doing things and his love of the big box store. From a debt investor perspective, they can see that him playing a role again isn't going to be a good deal."
Best Buy did not respond to our request for comment.