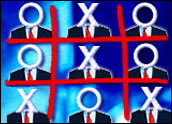 There has been a reorganization at the top of Microsoft's entertainment and devices division: Its president Robbie Bach, who has been with Microsoft for 22 years, is retiring. Also departing is J Allard, senior vice president of design and development for the division. A 19-year company veteran, Allard will maintain ties with Microsoft, serving as a strategic advisor for CEO Steve Ballmer.
Ballmer will be more involved in the management of the struggling division, which is responsible for such consumer products as Windows Phone 7, Xbox, Zune and Project Natal. SVP Andy Lees and SVP Don Mattrick, respectively the heads of the company's mobile communications and interactive entertainment business units — both part of the entertainment and devices division — will report directly to Ballmer.
Bach and Allard are ostensibly leaving Microsoft on their own terms, but there are certainly ample reasons to wonder about the circumstances, Matt Rosoff, an analyst with Directions on Microsoft, told the E-Commerce Times. "When things are going great at a company, you don't see many people voluntarily retiring, especially before a major release," he said, noting that Windows Phone 7 is expected later this year.
It is easy to conclude that Microsoft may not have been pleased with how the division is progressing, Rosoff continued.
Mobile Woes
Microsoft's perch in the mobile market is tenuous, at best — a particularly bitter pill for a company that has been in the space much longer than competitors like Google, whose Android operating system is fast gaining ground, and Apple, maker of the iconic iPhone.
All eyes will be on Windows Phone 7, Rosoff said. "We will see how it does, but it could be that there will be some more shakeups after that comes out."
Microsoft's head start has been squandered away, N. Venkatraman, a business professor with Boston University, told the E-Commerce Times.
Furthermore, its attempts to retake the lost ground appear to be uncoordinated and ill-timed, he continued, ticking off a list of botched endeavors: Microsoft Kin and Windows Phone 7 appear unconnected; Courier, its folding tablet device, is apparently DOA; Surface computing looks to be too expensive for consumers; Project Natal is running behind schedule.
"What it needs is a road map and the support of ecosystems to make Windows relevant in media and entertainment," said Venkatraman. "It has some strong pieces, but the coherence seems to be lacking."
The shakeup could well lead to positive changes that could eventually have an impact on the larger market, Rob Enderle of the Enderle Group, told the E-Commerce Times.
The entertainment and devices division was the source of many of the problems that existed between Microsoft and its primary partners Dell and HP, he said.
"Bach was an expert at playing Ballmer, and Ballmer was excessively focused on the enterprise," remarked Enderle. However, "the combination of HP buying Palm, Dell going with Android, and Apple starting to pass Microsoft in market cap finally got [Ballmer's] attention, and he is now focused like a laser on this segment.
"When Ballmer focuses, he can get scary good, and the end result will likely be a number of interesting and strategic changes that should eliminate much of the drag this division has had on the corporation," Enderle concluded.
Sending a Message
The shakeup is as much about sending a message as it is about internal operations, according to John Pilmer, president of Pilmer PR, who has worked with Microsoft and its partners for more than a decade.
Redmond wants to assure the market that it is on top of its problems and will compete in — and dominate — the space, Pilmer told the E-Commerce Times.
The market is also hearing an unspoken message, he said — that Microsoft is not getting the job done, and the competition is "kicking our trash."