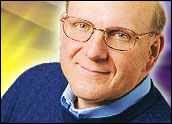 Microsoft CEO Steve Ballmer has cautioned Wall Street that analysts' fiscal year 2008 expectations for Windows Vista sales may be too "optimistic" and "overly aggressive."
Vista is more of an opportunity to sustain Windows revenue — not necessarily grow it, Ballmer reportedly said Thursday during a meeting with financial analysts. Some analysts have projected revenue from Windows would grow faster than the PC industry as a whole, Ballmer reportedly also noted. Microsoft's fiscal year 2008 begins in July.
Not surprisingly, the day after Ballmer made his comments, shares dropped by about 70 cents, trading at US$28.76 by midday.
Vague Guidance
The tempered outlook, however, is not necessarily reflective of Microsoft's overall performance expectations, Frederic Ruffy, an analyst with the investor education firm Optionetics, told the E-Commerce Times.
Microsoft has not released a new operating system in five years, he observed. In addition, Windows currently runs on 95 percent of computers and represents the company's main revenue driver.
"As a result, there has been a lot of excitement building ahead of the Vista launch," Ruffy stated.
No Disconnect
Ballmer's comments were clearly conservative, but the company says that it doesn't see a "disconnect" from analyst profit estimates for fiscal 2008, Ruffy continued.
"In the absence of any major changes to the earnings outlook, the decline in the stock price will probably be short-lived," he predicted.
For instance, in the options market, sentiment is mixed, Ruffy noted. "While shares are trading lower, there has been no noticeable uptick in put activity — which might occur if investors were really growing concerned that the guidance represents a major negative for the company.
"However, given that the guidance was somewhat vague, a sense of confusion or uncertainty might linger over the stock until investors begin to see actual sales numbers related to the new operating system," he concluded.
Adapting to Vista
In the beginning, Vista sales might not be robust as consumers take a while adapt to the new system.
"There have been major changes to the OS, which means people will have to relearn almost everything they know about Windows in order to navigate through the new system," Tom Thornton, senior research scientist with Perceptive Sciences and a Vista beta user, told the E-Commerce Times.
Another problem is the perception that Vista could require significant upgrades to a PC in order for users to get maximum benefit of its features, noted Michael Legatt, also a senior research scientist with Perceptive Sciences.
"I think a lot of consumers are holding back from buying it right away for that reason," he told the E-Commerce Times.