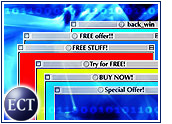 Pop-up ads can interrupt, slow or even ruin a Web search or news headline scan, but these annoying products of the online ad slump can be eliminated using a number of methods — including free, third-party software that deflects unwanted browser windows.
While experts say there has not been a pronounced surge in downloads of pop-up killing (PUK) software, such programs are readily available online and have garnered a significant user base. After all, although anti-pop-up activity may frustrate marketers seeking to reach consumers at any cost, PUK freeware puts control of the Web browsing experience back in users' hands.
However, as more Internet service providers and Web sites banish pop-ups of their own volition — and as advertisers realize pop-ups are becoming ineffective and steer away from them to avoid damaging their brand — PUK utilities may become less essential.
Pop-Ups, Begone
A broad range of free PUK software is available on the Internet, such as Panicware's Pop-Up Stopper, Ecom Software's PopUpBuster and Sureshot's Stop-the-Pop. "It's increased in popularity over the last couple of years as pop-up ads have increased," Gartner vice president David Smith told the E-Commerce Times.
But one factor that tempers use of PUK freeware is that glitches can occur in connection with installation of third-party software that is not supported by a vendor. For example, third-party software can cause configuration or stability problems, Smith said.
He added that some pop-up killing utilities trade one problem for another because they include spyware, which tracks users' Web browsing habits.
Nielsen//NetRatings vice president of analytics Charles Buchwalter, who said pop-ups represent just 20 percent of online ads, told the E-Commerce Times that hassles related to installing freeware can "mess you up for months."
Take Away Trend
But the need for third-party pop-up killers may be lessening as Internet service providers and highly trafficked Web sites begin to include this functionality. For example, EarthLink, iVillage and AskJeeves have voluntarily removed pop-up ads from their sites. In fact, pop-up removal has become a competitive battle, with AOL announcing plans to banish pop-ups sponsored by outside companies and Microsoft's MSN trying to up the stakes by banning all pop-ups in its newest version.
In addition, pop-up prevention methods have crept into some Web browsers, including Mozilla and Netscape, which feature settings that block these ads.
With all of this pop-up killing going on, is third-party software — free or not — still necessary?
Popping Up, Fading Away
The answer is that pop-ups are unlikely to disappear completely because niche advertisers will hang on to them. However, they almost certainly will become less prevalent as advertisers shy away from the potential brand damage that can result from alienating consumers. Therefore, third-party pop-up freeware may lose any "must-have" luster it has gained.
Buchwalter said that in the end, pop-ups will be a footnote rather than a chapter in the annals of Internet history.
"I don't think [PUK software] is going to be necessary," he noted. "Advertisers are going to realize the benefit/response rate and that they are [angering] a lot of potential consumers … and tarnishing their brand. People are veering away from it from that standpoint."