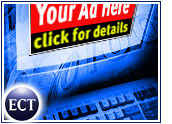 Though they seem to be everywhere on the Internet, pop-up advertisements are used by less than 10 percent of all companies that advertise online, according to a report from Nielsen//NetRatings.
Between January and July of 2002, companies bought 11.3 billion pop-up ad impressions, but that figure represents just 2 percent of the overall online ad market.
"Pop-ups quickly gained notoriety since their introduction in early 2001," said Charles Buchwalter, vice president of client analytics at Nielsen//NetRatings. "Consumers may be surprised to find out that pop-up advertising comprises such a small percent of the total ad market."
Matter of Time
The small number of users and the potential for consumer backlash might help spell the demise of the format over time. Many analysts see pop-up ads as part of a transition from staid banner advertising to more dynamic — but less annoying — online ad formats.
Denise Garcia, research director at GartnerG2, told the E-Commerce Times that the Web will become a medium favored for brand-building, positioning and traffic gains.
"Internet advertising is growing up, and there's going to be growing pains," she said. "Eventually, Internet ads will look a lot more like television ads, and people will know what to expect when they go online."
Niche Diggers
In the meantime, consumers may be able to target their angst about pop-up ads, Buchwalter said. NetRatings found that just 63 companies were responsible for 80 percent of all pop-up advertising. The other 20 percent of pop-up ads came from more than 2,000 advertisers who use the format more sparingly.
Niche sites favor pop-ups and use them primarily to drive traffic to their sites rather than to build brand awareness. "Broader categories such as portals, search engines and shopping sites have shied away from utilizing the technology," Buchwalter said.
X Marks the Spot
Wireless device seller X10.com, which was among the first online sites to use pop-up ads to drive traffic last year, continues to buy the most pop-up ads. The company has purchased more than 1 billion ads so far this year, well ahead of airline-backed travel site Orbitz, which bought 687 million pop-up impressions.
Rounding out the top five were Providian Financial with 679 million impressions, real estate and travel giant Cendant with 561 million, and Cassava Enterprises with 548 million. Also in the top 10: Dell, Bonzi Software, Morgan Stanley, Columbia House and Advertising.com.
"A few advertisers clearly view the benefits of pop-up advertising as greater than the potential harm to brand image," Buchwalter said. "We anticipate that the continuing negativity surrounding pop-ups will lead to new ad designs that are less intrusive and more responsive to consumer expectations."