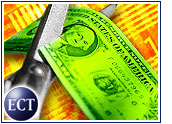 Applied Materials, Inc. (Nasdaq:AMAT) was down US$1.38 at $51.06 in morning trading Wednesday, after thecompany said its first-quarter results will suffer from a recent drop indemand for its products.
Applied Materials, which makes equipment used for manufacturing semiconductors, said it is beginning to see the effects of an industry-wide slowdown in demand forchips and computers.
"Demand for semiconductors began to slow late in the fourth quarter of2000," Applied Materials chairman and chief executive officer James C. Morgan said."Inventory buildups in telecommunication products, slower-than-expected PCsales and slower global economic growth are now causing customers toreevaluate their capital spending plans."
Added Morgan: "Since the beginning of January, a number of our customers have beenrevising the timing of their capital spending and rescheduling or cancellingexisting backlog, resulting in the postponement in delivery of equipment. Therefore, we expect orders and revenue to be below ouroriginal targets."
Chipmakers including Intel Corp. (Nasdaq: INTC) and computer companiesincluding Hewlett-Packard Co. (NYSE: HWP) and Gateway Inc. (NYSE: GTW) havesaid a slowing economy has crimped demand for their products.
At Applied Materials, revenue will likely come in 7 to 10 percent below the$2.9 billion to $2.95 billion company officials predicted in November, andearnings per share will likely fall below expectations as well, according to the company.
Applied Materials plans to report results for the first quarter ended January28th after the close of trading on February 13th.
"We will continue to assess the impact of these industry factors on ourbusiness and share our outlook with investors" after the results arereleased, Morgan said.
Applied Materials is based in Santa Clara, California.