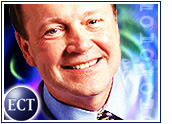 Cisco Systems, Inc. (Nasdaq: CSCO) was down US$1.81 at $36.56 in early trading Monday following reports that the company is seeing a weaker quarter than previously thought.
Chief executive officer John Chambers told reporters at the World Economic Forum in Davos, Switzerland, that business in January had been slow, though the company's long-term outlook was improving. Chambers reportedly said the current second quarter of the company's fiscal year was more challenging than management had expected, as U.S. telecom clients cut back on spending.
Earlier this month, reports that Chambers referred to the quarter as challenging sent Cisco shares lower. The companys stock set a 52-week low of $31.94 on January 3rd. The stocks 52-week high of $82 was reached last March.
Cisco, which provides networking hardware, software and services, has seen demand for its products slip, as the U.S. economy started a downturn. The company would be among the first to benefit from a Federal Reserve rate cut, a move that could spur a rebound in corporate investment.
Cisco plans to report results for its fiscal second quarter after the close of trading on February 6th. For the first quarter ended October 28th, the company saw income before extraordinary items of $1.36 billion, or 18 cents per share, up from $814 million, or 11 cents, in the same period a year earlier. Sales rose to $6.52 billion from $3.92 billion.
After charges for acquisitions, the company earned $798 million, or 11 cents per share, up from $415 million, or 6 cents.
Chambers said at the time of the first quarter results that demand for Internet-related applications provided the company with an opportunity for growth.