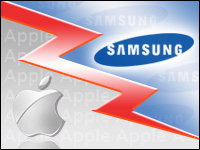 A California jury on Tuesday reached a decision in a long-running courtroom dispute between Apple and Samsung over their respective claims of patent infringement.
The jury's findings were mixed, with both Apple and Samsung able to claim some sort of victory but neither emerging as the decisive winner. Both companies were found to have infringed the other's patents.
Apple was awarded damages for Samsung's infringement of three of its patents — but the amount was less than 10 percent of the damages it had sought. The jury actually reached its verdict last week, but the judge recalled it to recalculate the damages. Though it reapportioned them for Tuesday decision, the amount was still the same — a relatively small US$119.5 million.
The patents in contention had to do with quick links, universal search, background syncing, automatic word correction, camera and folder organization functionality, and video transmission functionality.
Long-Standing Animosity
The legal animosity between the two companies dates back to April 2011 when Apple accused Samsung of copying its iPad and iPhone products. Suits were filed, countersuits were launched. Apple has won some victories, as has Samsung.
This latest courtroom verdict is unlikely to break the cycle, Francis Petit, associate dean for executive programs at Fordham University, told the E-Commerce Times.
"Both sides, in my estimation, must have that empty feeling of a tie score in an athletic contest," he said.
The jury also significantly reduced the damages requested by Samsung for Apple's infringement of two of its patents, noted Bob Fish, partner with Fish & Tsang. Samsung originally had demanded $6.2 million, but the jury allowed just $158,000.
Yet Apple is probably smarting the most from the outcome, he told the E-Commerce Times. The $119.5 million awarded was a far cry from the $2.2 billion Apple originally sought.
Fueling the Fire
If anything, this verdict makes it less likely the two companies will ever come to a settlement, Fish suggested.
Certainly both parties can be expected to appeal aspects of this and prior judgments, he said. The bigger issue for Apple is that it has successfully proven in court that Samsung infringed some of its patents.
"However, Apple's inability to obtain significant damage awards and an injunction banning the sale of current Samsung products reduces the deterrent effect of the patents, ensures that Samsung will keep marketing and selling its products, and may encourage others to disregard patent rights as merely a cost of doing business," Fish pointed out.
Tarnished Brand
Samsung surely is not rejoicing, even though this verdict is being viewed as a defensive victory for the company, observed Fordham's Petit. "They cannot be truly satisfied as the brand has been tarnished, to a degree, as being less innovative and more of a market follower to Apple."
The two companies are unlikely to retreat from the courtroom, he said. The stakes are simply too high as the mobile device market continues on its trajectory of exponential growth.
"Apple now generates two-thirds of its sales from the iPhone and iPad, and Samsung is now the world's largest maker of smartphones," said Petit. "These competitors and others understand the importance of this market, not only from a revenue-generation standpoint but also on [a company's] future position."
BlackBerry's decline highlights how easy it is for an established product to lose favor in the market and how quickly it can happen. That specter also may be driving the litigation, he said. "One false move and the lights can go out."