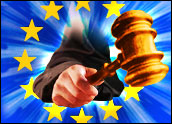 A UK judge is stepping up the pressure on Apple, and possibly complicating its legal strategies in other parts of the world, by ordering it to publish a notice on its UK website and in British newspapers stating that Samsung did not copy the iPad design. The notice must stay on Apple's website for six months.
The order follows Judge Colin Birss' ruling earlier this month that Samsung's Galaxy Tab did not infringe on Apple's iPad design. The decision was a bitter blow to Apple, which is battling Samsung on this issue in several legal jurisdictions.
The Perils of the Information Age
While the order will likely be a galling one for Apple to fulfill, the judge's intention is not to humiliate the company, Peter S. Vogel, a partner withGardere Wynne Sewell, told MacNewsWorld.
"With the proliferation of information on the Internet, there clearly can be, and is, all kinds of misinformation about products and companies available for consumers to read," he said. The judge probably wanted to give Samsung the opportunity to clear its name in this particular matter.
'Not Cool Enough'
The turn of events over the last month have no doubt been pleasing to Samsung, which has often found itself on the losing end of patent litigation with Apple over this issue.
Last year, Apple began stepping up its legal onslaught against Samsung, alleging it violated several of its patents for the iPad with its Galaxy Tab. At one point, the South Korean manufacturer was subjected to a Europe-wide injunction issued by a German court against the sale of the device.
Apple's arguments were based largely on the similar look and feel of the two devices. Samsung's defense was that Apple was trying to include attributes that were not part of its patent, such as tablet size.
Judge Birss also appeared to resort to intangibles in his decision-making, however, at least in part, and Samsung came out the winner. One of the reasons consumers were unlikely to confuse the two tablets, he reportedly said in the July 9 order, was that Samsung's tablets were "not as cool."
Apple has said it will appeal that ruling.
A Worldwide Impact
Assuming Apple does have to comply with Birss' order, its ramifications for other legal cases pending around the globe are unclear. It certainly can be said, though, that from Apple's perspective, any statement on its part that Samsung did not copy its design would not be good, said Peter Toren, an attorney with Weisbrod Matteis & Copley.
The impact will come down to technical and legal arguments, he told MacNewsWorld. "The first issue is how similar is the UK patent compared to the other Apple patents at issue in other litigation? Is Apple making the same claims or arguments, or are there different issues at stake?"
Even if the claims and arguments are similar, that doesn't necessarily mean foreign courts will rely on the UK court's finding, he said. "Certainly, though, it can be considered on some level."
Uniformity in the EU
In Europe, however, Apple may have to concede certain positions, depending on how the appeal comes down, noted Vogel.
"Patent laws vary around the world," he said, "but the Treaty of Rome, which dictates how patent laws are written and enforced in the EU, tries to maintain some level of uniformity."
Apple and Samsung did not respond to our requests to comment for this story.