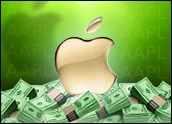 Apple's stock took another hit on Thursday, sinking to a dismal US$392.25 by the closing bell.
Fears have been mounting about Apple's place in the world, and they were heightened earlier this week by a report from a key supplier, Cirrus Logic, which posted a disappointing revenue forecast.
On Wednesday, Apple's shares dipped below $400 per unit for the first time in more than a year, ending the day 5.5 percent lower at $402.80. On Thursday, they slipped another 2.75 percent.
The company's share price is just one piece of a complicated puzzle. What the future holds in store for Apple is far from clear, despite the discouraging trajectory.
"The bottom line is this: Apple will be fine when — or if — it comes out with another breathtaking product," Trip Chowdhry, managing director of equity research at Global Equities Research, told the E-Commerce Times.
"Before, the market always assumed this would continue to happen," he said. "Now it is no longer so sure, and so it is seizing on every tidbit of news to try to figure out where Apple is headed."
What Cirrus Logic Had to Say
The news from Cirrus Logic was no mere blip in the data. The company makes analog and audio chips for the iPhone and iPad, and 90 percent of its business comes from Apple. So when it warned on Tuesday of a reduced product forecast from unnamed customers, it was easy to see how the market connected the dots and delivered its verdict on Apple.
"When Cirrus reported a holding inventory, it implied that the supply chain is not absorbing the inventory, thus indicating a production shortage — hence lower demand for Apple products," Mohan Ponnudurai, industry solution director at Sparta Systems, told the E-Commerce Times.
This might be true, but there might also be other possibilities, he suggested. Perhaps the next gen iPhone — the 5S or 6 — is moving away from Cirrus chips.
As for the speculation that consumer demand for the iPhone is waning, Ponnudurai doesn't buy it.
"There is a huge untapped market in the developing world for lower-priced phones, at the $100 mark, which typically had been served through older tech product cycle, such as the iPhone 4 or 4S," he pointed out.
Another possibility is that Apple might have a totally new design with a lower-cost part mix in the works, suggested Ponnudurai. "This is a huge segment that Apple had ignored, and Android-powered phones are taking it in a storm."
The Bigger Picture
Whichever path Apple winds up taking — another round of innovation or a continued slow decline — it probably won't become apparent any time soon, even with its next quarterly earnings scheduled for next week.
The market will finally know one way or another within 12 to 18 months, said Loizos Heracleous, a professor of strategy at Warwick Business School and author of a research paper published in Organizational Dynamics.
Apple has safety net of $137 billion in cash and liquid assets, he noted, which will allow it to buy any new technologies that appear to pose a threat.
"Stock markets react — and sometimes overreact — immediately," wrote Heracleous, "but what matters is the big picture, and Apple seems to be on a solid footing by that measure."