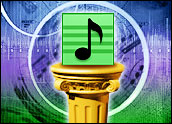 America Online today announced that it has reached agreements with Universal Music Group and Warner Music Group to bring thousands of music videos to AOL Music, which reaches more than 22 million music fans a month.
AOL spokesperson Ann Burkart told the E-Commerce Times that the deal enhances the Internet giant's collection of popular original music video programs like in-studio AOL Music Sessions and the AOL Music LIVE! Concert series.
"Music videos featuring many of the world's most popular artists are now available to online fans to stream on demand on an unlimited basis on AOL Music," Burkart said. "In addition, AOL Music will create artist and genre-based music video channels featuring the videos."
Music Videos Everywhere
AOL's announcement comes just weeks after Sony said it plans to digitize its top 500 films and make them available via Movielink, a video-on-demand joint venture between Sony Pictures and several other major studios, as well as on mobile phones and proprietary digital stores within the next year.
Microsoft also recently launched its MSN Video Downloads service to provide daily television programming, including video content from MSNBC.com, Food Network, FOX Sports and IFILM Corp. And in mid-March, CinemaNow forged alliances with Warner Music Group and TVT Records to sell music videos on a download-to-own basis via WatchMusicHere.com.
"With more than 90 million broadband Internet subscribers worldwide, the evolution of digital rights management and more clearly defined legal boundaries, a fertile market is beginning to take root," said Digital Tech Consulting analyst Antonette Goroch.
AOL Goes Broadband
AOL has hopped on the broadband bandwagon with its own enhanced ISP service. Now the company is offering more features that let its users — and other Internet surfers — take advantage of high speed connections to access online media.
"We are looking to serve the growing consumer interest in online video content," Burkhart said. "With increasing interest due to broadband adoption we are pushing more music offerings onto the Web."
Sony, Microsoft, AOL and the rest are all hoping for a piece of the piece as Digital Tech Consulting predicts online media services are set to generate nearly US$7 billion in revenues by 2008.