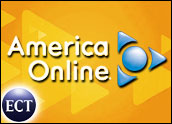 AOL confirmed this week the layoff of about 700 employees, most of whom were working in customer call centers across the United States. The once-dominant Internet service company blamed the job cuts on its dwindling dial-up customer base, but industry watchers also viewed the layoffs as a ploy to please potential buyers or investors of the Time Warner unit, which are rumored to include Google, Microsoft, Yahoo and others.
AOL also indicated its customers were becoming more savvy, and did not require the call center support, something some analysts doubted, but others indicated could be the case.
"I can only hope that AOL is finding that its members are using online knowledge-enabled tools to provide self-service support," Basex CEO and chief analyst Jonathan Spira told the E-Commerce Times. "When combined with a dwindling membership, the cut of 450 call center employees will hopefully not be noticeable. More and more Internet users find it faster to use self-service tools in place of speaking with a support rep."
Attractive, Appreciated
Amid rumors of interest by today's dominant Internet companies — Google, Yahoo, Microsoft and Comcast — AOL's layoffs eliminate a part of the company's business that are not important to potential buyers or significant investors, Spira said.
"The layoffs, which amount only to 4 percent of the AOL workforce, probably make the company more attractive to potential buyers," Spira said. "The buyers do not seem to be interested in the Internet service provider (ISP) business, which was supported by the call centers."
Spira reiterated that there was validity to AOL's reported reasoning that customers have become increasingly self-sufficient and do not need the call center help.
"Many companies are finding themselves in a similar position, and finding it more cost effective to migrate to self-service, which many customers appreciate as well."
Subscriber Drops and Deals
The AOL job cuts, which fall in line with similar cuts made periodically over the last few years, reflect a dropping user base that has been driven by a number of factors, Grey Consulting founder and principal analyst Maurene Caplan Grey told the E-Commerce Times.
The analyst, who doubted increased user savvy was behind the cuts, indicated a recent instant messaging deal for interoperability between Microsoft and Yahoo may have also contributed to the job cuts, and further subscriber loss is likely to increase the chances of an acquisition.
Grey added that, although its user base is dropping, AOL still retains a substantial subscriber base of millions, which may be attractive, particularly to the ever-expanding Google.
"I think it would be very appealing for somebody like Google," she said, referring to the company's forays into e-mail, instant messaging and more. "Wouldn't it be nice for Google if they acquired the AOL subscriber base? That would position them along with Yahoo and MSN and others to be a major player."
Investment Instead
However, Yankee Group senior analyst Laura DiDio indicated a substantial or controlling investment in AOL from Google, Microsoft, or one of the other reported suitors may be far more likely given the difficulty and history of large player acquisitions.
"You have to be very careful about these giant acquisitions," DiDio told the E-Commerce Times, referring to Google executive Eric Schmidt's frugality. "When you have one giant with another, it doesn't always go right. Quite often, it doesn't — it can end up being more of a burden trying to meld two different cultures — so you're very, very cautious."
Referring to AOL's recent announcement of AOL Video search, DiDio added that AOL is no doubt on the market.
"I think Time Warner would like to shop them around and make them more attractive," she said. "Certainly, there's some behind-the-scenes strategy going on."