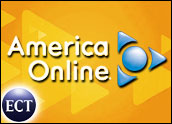 Even as rumors swirl that it might sell part or all of America Online to one or more big-name suitors, Time Warner has formally launched a US$50 million marketing campaign designed to let the world know that much of the once walled-off content of the Internet community is now freely available at AOL.com.
The major strategy shift away from an Internet world only accessible to paying subscribers has deep roots that go back to the fading number of users willing to pay AOL for dial-up or broadband access.
Campaign in Full Swing
The formal launch of AOL.com was expected to happen over the summer. And while the portal did go live some time ago, the ad campaign to let people know took longer to materialize. This week, however, ads began appearing online, in print and on radio stations nationwide.
The visual ads feature two large curtains parting slowly as crowds move toward them, meant to symbolize the opening of the content-rich AOL world to the general Web population.
The ad buy is split among four different themes, each focusing on different areas of AOL.com. An entertainment campaign focuses on AOL Music, the Moviefone theater listings service and AOL Radio. An information and news push will focus on AOL Search — which uses Google results — as well as video news services. A convenience campaign highlights content on AOL CityGuide and Mapquest. And finally a staying-connected theme focuses on AOL.com's free e-mail, instant messaging and related applications.
While it includes offline components, the effort is targeted mainly at existing Web users and relies on search as well as banner ads on major sites, including eBay.
"This campaign reaches Web users where they are — online," said Kevin Conroy, executive vice president, AOL Media Networks. "With a changing media landscape, a multi-pronged approach, which also includes print, broadcast and outdoor billboards will more effectively reach today's consumer."
Conroy added that the idea is to connect "consumers directly with the value that matters most to them within our new AOL.com portal experience."
Yo, Yahoo
Forrester Research analyst Charlene Li told the E-Commerce Times that Time Warner had to get past concerns about cannibalizing its own subscriber base before it could throw open the doors to AOL. In other words, the move to a portal setup reduces motivation that the approximately 29 million subscribers remaining — half of the number AOL had at its peak — have for keeping their subscriptions active.
On the other hand, she added, AOL.com can now compete with the likes of Yahoo for advertising spending across a variety of content channels. The shift has prompted Li to say that AOL has the potential to become the "comeback kid" of the Internet space.
"They are certainly in a position to challenge, MSN, Yahoo and Google for portal eyeballs," Li said. "And they now have a variety of ways to have a connection with users," including full-paid subscriptions and bargain-rate bring-your-access accounts that have enhanced e-mail and messaging functionality. "The end game is to build the audience in order to attract advertising dollars that will replace declining subscriber revenues."
Timing Is Everything
The launch comes as Time Warner is said to be in talks with Comcast and Google and possibly with Microsoft as well about strategic partnerships or possible sales of part or all of AOL.
The most recent rumors have Google and Comcast coming together to buy a minority stake in a spun-off AOL, which Time Warner would continue to hold an interest in.
Such a scheme would give Comcast a target audience of legacy dial-up users to target with broadband service, leave Time Warner with an online distribution channel for its content and greatly accelerate Google's efforts to transform itself from a search company into an online generalist and portal.
Analysts noted that the campaign would still be worthwhile even if a sale was being pondered and said it likely had to be moved forward anyway given the uncertainty of the talks and the likelihood that in the end, Time Warner will find AOL too valuable to sell.