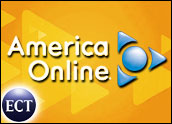 America Online will pay New York state US$1.25 million and revamp its customer service approach to settle charges that it continued to bill some customers after they canceled their online access accounts.
New York Attorney General Eliot Spitzer said AOL agreed to pay the fine and to reimburse any state residents who continued to receive bills even after they ended their subscriptions.
No Means No
Although it did not admit any wrongdoing, AOL also agreed to change the incentives it offers to customer service representatives, a tacit acknowledgement that its past practices may have created an incentive for customer representatives to refuse to let customers terminate their relationship with AOL.
Spitzer's office said it received around 300 complaints about the retention practices at AOL in recent years.
Spitzer said the old system rewarded consumer service personnel with bonuses worth "tens of thousands of dollars" if they could convince half of all people who called to cancel their subscriptions to stay on with AOL. AOL also allegedly set minimum retention rates that customer reps had to meet in order to keep their jobs.
"These bonuses, and the minimum 'save' rates accompanying them, had the effect of employees not honoring cancellations, or otherwise making cancellation unduly difficult for consumers," Spitzer said. "This agreement helps ensure that AOL will strive to keep its customers through quality service, not stealth retention programs."
As part of the settlement, AOL also agreed to have a third party monitor the cancellation requests it receives and ensure that AOL has followed through in a timely manner.
Hurt by Broadband
AOL has been shedding members for several years, a timeframe that coincides with the rise of broadband. AOL attempted to embrace high-speed connections with a bring-your-own access approach, but that has largely failed to stem the tide.
In recent years, Jupiter Research analyst Joseph Laszlo said, AOL's strategies to avoid cancellations have become "pretty legendary."
"I think everyone knows someone who's tried to quit and had everything from free months of service to 'you'll be sorry!' wielded against them," Laszlo said.
More troubling going forward may be the fact that despite its hard-sell efforts, AOL still lost some 900,000 subscribers in the second quarter of 2005 alone and has seen millions jump ship since 2000.
"What happens to poor AOL if it can't do what it did to dissuade?" Laszlo asked.
Another Notch for Spitzer
The settlement comes as AOL works furiously to re-invent itself in large part to reduce its reliance on its shrinking subscriber base. Rather than rely on monthly fees, AOL is in the process of throwing open the doors to its once walled-in online kingdom.
That effort, which includes the re-launch of the AOL.com site as a full Web portal designed to compete with Yahoo, MSN and Google, is meant to get AOL a bigger piece of the online advertising and marketing spend and to help it leverage the content it has access to through its parent company Time Warner.
"Despite the struggles of its ISP arm, AOL.com is well positioned because of the number of users of AIM (AOL's Instant Messaging) and the strength of its new online mail offering," Forrester Research analyst Charlene Li told the E-Commerce Times.
For Spitzer, the settlement with AOL is just the latest in a long line of high-profile settlements and other actions spearheaded by his office.
The attorney general has become an unofficial, and some would argue self-appointed, watchdog of the Internet industry, taking on everything from spammers to spyware distributors, not to mention the Wall Street banks that helped fuel the Internet stock boom.
In June, Spitzer got Intermix Media to settle charges that consumers had spyware and adware programs installed on their computers without their knowledge when they downloaded freeware programs. He's also gotten settlements and judgments against eBay bid-riggers and helped private companies, including AOL, sue spammers.