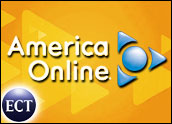 The portal world was abuzz today after published and broadcast reports linked both Google and Microsoft to possible acquisitions or partnerships with America Online.
Time Warner, America Online's parent company, has been known to be weighing various options for cutting AOL loose from the company that it actually bought back in 1999. A possible spinoff of the unit has been known to be on the table for some time, though AOL's continued subscriber losses may make such a move difficult.
Many Suitors
The New York Post reported today that Time Warner and Microsoft had held talks about a possible strategic partnership in which Microsoft would buy a stake in AOL and then merge it with its own portal, MSN. Such a deal would instantly create a force in the portal space that would pose a serious threat to Yahoo, according to analysts.
Other reports have said that Google has also held talks with Time Warner and speculation was rampant that the US$4 billion Google raised in a stock sale today would become an acquisition war chest. Yahoo and AOL are also said to have held direct talks. The Post reported that AOL sees an MSN link-up presenting the best strategic alternative, however.
Analysts say the talks may bear no fruit in the end, since Time Warner may want to recoup more value for AOL than the other companies see it now having.
But given the rapidly evolving portal and search marketplaces, even a weakened AOL would be a huge victory for one of the other players and Google and Microsoft could be prompted to act simply to keep AOL's sizeable base of customers and experience as a portal from going to a competitor.
Fits the Mold
A joint venture with Time Warner to operate AOL may make the most sense, analysts said, because it would keep in place the connection between Time Warner's studios and TV networks and AOL. The synergies between those properties was the driving force behind the landmark merger of the two companies.
AOL has been rumored to be about to re-invent itself as a full-fledged publicly accessible portal, one that would rely as much on marketing income as subscription revenue. But an expected marketing push to pave the way for AOL.com has not yet materialized, leading to speculation that the plans are being shelved while the parent company determines how to proceed with AOL.
"AOL has the ingredients to be a competitor in the portal space," Forrester analyst Charlene Li told The E-Commerce Times. "Their IM product is the market leader and their Web mail product is innovative and promising. They have the potential to become a great dot-com turnaround story."
In fact, there are reports that the discussions began with a focus on the two sharing specific technologies — with AOL using MSN Search on its site and MSN gaining access to the AOL Instant Messenger or AIM platform.
Reversal of Fortunes
Jupiter Research analyst David Card said while there are synergies in a possible merger, dealing with such a merger might slow the companies down enough to give Yahoo and Google competitive opportunities.
Card said MSN Messenger is strong overseas, which would offer expansion for AIM's audience, but that AOL's reliance on Google for search services and advertising would have to be untangled.
"As usual, there's few things a merger could accomplish that can't be done with deals, but then, this would supposedly be a joint venture," Card said. "If Time Warner were to sell off AOL outright, how ironic would it be that no media conglomerate owned any of the big four companies that account for 36 percent of all the U.S. time spent online and 52 percent of U.S. online ad revenues?"
Microsoft and AOL were bitter rivals until they settled a private anti-trust suit that lingered from days when AOL bought Netscape, the browser that Microsoft crushed with its Internet Explorer. That $750 million settlement paved the way for more cooperation between the two companies.
AOL.com's pending launch and turnaround could delay the timing of any major moves. If the portal were to find traction with consumers, it might boost the value of AOL considerably.
The recent pace of technology mergers may also be fueling the speculation. eBay's recently announced $4 billion buy of VoIP provider Skype sent shockwaves around the Web industry. In fact, Google was said to have kicked the tires on Skype before passing and clearing the way for the purchase by eBay.