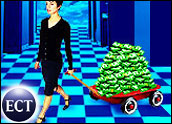 AOL Time Warner has admitted that three deals involving payment to its AOL unit from third parties, amounting to US$49 million, might have been erroneously declared as advertising revenue.
Calling the $49 million paid into the AOL unit over six quarters "an insignificant portion of the company's revenues," AOL Time Warner nevertheless said the payments bear further internal investigation, as do other advertising- and commerce-related transactions made by the AOL division.
"We have very recently learned of information that raises some questions about the accounting for a small number of transactions involving our AOL division relating to advertising and commerce revenues," AOL Time Warner CEO Richard Parsons said in a statement. "I am committed to completing our internal review and resolving those questions on a thorough and timely basis."
But Yankee Group analyst Michael Goodman told the E-Commerce Times that AOL "is not going to take that big of a hit overall because we've known this was coming" for about six weeks.
Finance Turnaround
AOL Time Warner previously had said its financials were in order and had denied that the three transactions in question were inappropriately categorized. However, the company launched an internal probe into its finances and claims it discovered that revenue generated by the deals might have been misplaced in its financial statements.
"I consider the accuracy of AOL Time Warner's financial reporting to be one of my most important responsibilities, and I am committed to giving investors accurate and transparent information about the company," said Parsons.
Parsons pledged that the company will take measures to ensure financial accuracy in the future and will do its part to bolster investor confidence. "We are moving forward to implement additional internal controls at AOL," he noted. "I am also committed to conducting the operations of all of our AOL Time Warner businesses with the utmost integrity and responsibility."
Paper Tiger?
The company made its latest disclosure even as Parsons and company chief financial officer Wayne Pace certified AOL Time Warner's financials with the U.S. Securities and Exchange Commission.
The SEC has ordered the CEOs and CFOs of more than 900 U.S. corporations to certify their financials, with nearly 700 ordered to do so by close of business Wednesday. The other 200-plus were given a later deadline. As of the Wednesday deadline, 500 companies had complied with the mandate, which is designed to restore investor confidence in the wake of a series of accounting scandals.
But according to the Yankee Group's Goodman, despite the publicity generated by the SEC's directive, the commission does not pose much of a threat to many companies.
Calling the SEC a paper tiger, Goodman said that if the government really wants to curtail corporate hijinks, it should "double the size of the SEC's investigative arm and give it teeth" like banking regulators have. When a banking regulator comes to call, "CEOs sweat," he explained.
Mounting Woes
AOL has not trod an easy path in recent weeks. A group of shareholders has filed what they hope will become a class-action suit against the company for allegedly misrepresenting revenue reaped from online advertising.
The SEC also has launched an inquiry into the company's accounting practices, and AOL Time Warner has found itself the defendant in a federal lawsuit. AOL head Bob Pittman left amid reports of the company's poor financials, and former USA Interactive executive Jon Miller has been hired to take his place.
In addition, AOL Time Warner recently stripped vice president and business development guru David Colburn of his responsibilities regarding AOL deals. According to published reports, Colburn has now left the company.