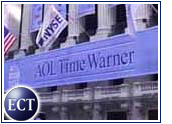 America Online (NYSE: AOL) on Monday unveiled a set of new music products that the Internet behemoth said "lay the foundation" for a range of planned music services, including a subscription-based program.
AOL said the new services — a content site for music fans and a radio network — will complement existing music offerings to provide listeners "with a depth, breadth and level of convenience that consumers have not had before in a single, integrated music platform."
The services build on AOL'S existing music properties, which AOL said are visited by almost 25 million unique users each month, and set the stage for the launch this fall of a new music partnership the company plans with a couple of big record labels.
AOL already operates the AOL Music Channel, Spinner.com and Winamp.
Eye on Broadband
AOL senior vice president Kevin Conroy, who heads the company's music division, said the company has its eye on the growing broadband market as well as its current customer base.
"With broadband poised to become more widely available, we're also taking the lead in building a bridge for consumers between today's products and services and the online music future," Conroy said. "By seamlessly integrating a complementary range of music-related offerings, we're able to redefine online music for the mass market today and lay a foundation for exciting new experiences to come."
Content, Radio Features
The new Artist Discovery Network will include original programming and localized content, in addition to music from major and independent record labels and editorial features from partners including CNN and National Public Radio.
Radio@AOL, which will be available this fall, will be accessible from the toolbar on AOL's next software version, AOL 7.0. It will include more than 50 channels of news, information and entertainment programming, including an interactive weekly countdown show and a kids-only channel.
MusicNet Nears Launch
The two services pave the way for MusicNet, a venture AOL has in partnership with Bertelsmann's BMG Entertainment, EMI and RealNetworks. MusicNet will offer features including customizable radio, a music recommendation tool and expanded broadband features. Digital music, concert tickets and other products will be available for purchase.
MusicNet, which works with RealNetworks software, will compete against Pressplay, a service Microsoft's MSN (Nasdaq: MSFT) has in partnership with Sony Music Network and Universal Music Group.
In April, AOL Time Warner, Bertelsmann, EMI and RealNetworks formed MusicNet, a venture designed to provide streaming music and other services over the AOL and RealNetworks sites, as well as other distributors that might want to license the content properties. The venture is reportedly due to go live this fall.
In June, MusicNet signed a license agreement with Napster designed to allow users of the controversial file-swapping service access to copyrighted music. Napster has shut down its service and is preparing to reopen as a paid subscription channel.
Online Music Grows
A report released Monday by Jupiter Media Metrix predicted that U.S. consumers will spend $6.2 billion on online music purchases by 2006, up from $1 million in 2001.
Online music sales will make up 32 percent of total music sales in five years, up from 7 percent currently, the research firm said.
The "next hurdle" that ventures like MusicNet face, according to Jupiter, will be to provide consumers with the services and features they want at acceptable prices.