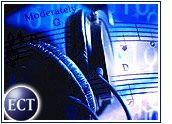 More than half of all online music buyers now say they are willing to buy a label-backed subscription plan to get their digital music, but the music industry must offer more services to keep those customers long-term, according to a reportreleased Monday by Jupiter Media Metrix (Nasdaq: JMXI).
Jupiter said that 59 percent of online music buyers are now willing to pay a monthly fee to belong to a subscription digital music service, up from 41 percent a year ago, an increase that comes as free digital music swapping on Napster collapses.
Music labels are preparing to launch two subscription-based services in coming months. However, neither of the services — MusicNet and PressPlay — will offer all of the services that music buyers want, Jupiter said.
"Consumers have clearly indicated that the most important factor influencing their decision to subscribe to a digital music service is quality," said Jupiter analyst Danielle Romano. "These ventures must continue to experiment with the new features that consumers want in order to capitalize on the potential market left over from Napster."
Extra, Extra
While the speed of downloads, the absence of virus risks and guaranteed sound quality are important factors for music buyers, buyers want more services, options and features, Jupiter said.
For instance, 48 percent of consumers said they would expect to be able to make copies of downloaded songs while 36 percent want their music to be playable on a range of devices. Neither MusicNet nor PressPlay will offer those features at launch, Jupiter said.
Growth Spurt
Meanwhile, Jupiter said the growth of online music sales shows no signs of letting up.
Online music will generate about US$1 billion in total sales this year, Jupiter said, and will mushroom to $6.2 billion by 2006.
Digitally downloaded music itself will account for about 3 percent of sales this year, or about US$29 million. That share will grow to 32 percent by 2006, when online sales will be worth $1.9 billion.
Price Points
While pay-as-you-go services currently dominate, accounting for $25 million in sales compared to $3 million for subscriptions in 2001, monthly fee services will dominate in the future, accounting for the majority of sales by 2006, Jupiter said.
"The online music market has a long way to go," said Aram Sinnreich, another Jupiter analyst. "Legal precedents have been set and label-backed digital music services are preparing to launch, but this is only the beginning."
The next challenge for the music industry, Sinnreich added, will be figuring out what prices consumers will pay for single downloads and subscription services.