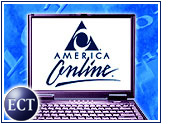 In its latest attempt to stem the flood of membership losses that has besieged it for more than a year, giant Internet service provider America Online has partnered with Systemax, which markets PC systems from various hardware makers, to offer a complete personal computer for just US$299.
The PC package, billed as the AOL Optimized PC, comes complete with monitor and printer, but there is a catch in the form of a required 12-month subscription to AOL's full service, which costs $23.90 per month. With the year of service factored in, the total PC and online service offer costs closer to $600.
Still, the chance to buy a computer for such a low price could lure new members to AOL, which often has sold its service as the easiest way to get online and a snap to use even for computer neophytes.
Please Stay
AOL could not be reached for comment, and the extent of the promotional efforts behind the deal were not immediately clear. Online, the offer is being made through a specific Web site.
In its most recent earnings report, AOL parent Time Warner said America Online lost more than 800,000 full-service dial-up subscribers during the period. Many of those users stepped up to broadband options or migrated to less-expensive dial-up alternatives. As many as 2 million AOL members have defected to other Internet access options in recent years.
In an effort to fight the outflow of subscribers, AOL has said it will begin offering a discount Net access service of its own early next year. That stripped-down alternative will cost less than $10 per month, on par with such rivals as NetZero and Juno.
In addition, over the summer, AOL said it would unveil a service designed to boost dial-up connection speeds as part of its new AOL 9.0 release.
Targeting Fence-Sitters
IDC analyst Jonathan Gaw told the E-Commerce Times that AOL appears to be trying to wring any remaining growth out of the Internet-neophyte market with the PC offer, which also may appeal to families that need a second computer.
"AOL has an image of offering a cleaned-up, safer Internet," Gaw said, noting that the company's spam filters and parental surfing controls are often cited as favorite features by members. "There are no doubt some families fence-sitting about getting a new computer, and this might cause them to jump off."
The PC comes loaded with Microsoft Windows XP and AOL's custom version of Sun's Office suite. It is designed to enable users to access the Web, send e-mail and perform other basic computing functions, all with a single click.
Staying Different
However, Forrester Research analyst Charlene Li told the E-Commerce Times that the deal seems to be a test and, even if expanded, appears to be designed to supplement AOL's main focus on improving content and offering its customers more exclusive features than competitors such as Yahoo and MSN, rather than an all-out effort to attract more users.
"They seem to have found their focus in the content delivery area and in making the service better and more useful," Li said. By virtually all accounts, she said, the 9.0 release is a strong upgrade of the service and demonstrates that AOL is moving to respond to what users want. "The bottom line needs to be that they put out the best AOL service they can. That's what will keep people from wandering off."
Indeed, AOL remains focused on its push to make its content so unique that members will be willing to pay higher prices for its Internet service. Toward that goal, AOL last month bought a company that specializes in providing search results for audio and video clips.
Also, AOL on Thursday announced a partnership with GameSpot, a leading games-related content site, saying AOL members will receive direct access to some of Gamespot's premium content, including game reviews and playing hints and tips.