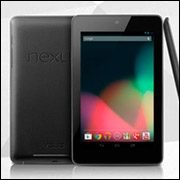 Tablet sales will be better this year than originally thought, and they are only going to increase until at least 2016, IDC forecast Wednesday.
Increased Android device shipments and demand for Apple's iPad mini are making the market more robust, said IDC. IDC raised its 2013 worldwide sales projection to 122.3 units from its year-ago estimate of 117.1 million.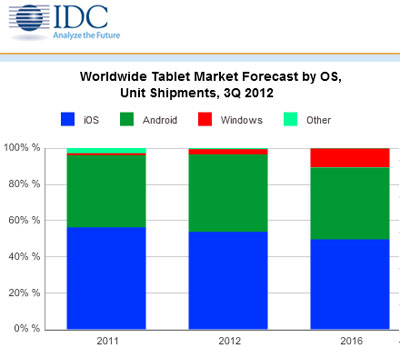 Consumers will choose more on-the-go and affordable devices such as smartphones and tablets in the coming years. Next year, 172.4 million tablet units will be sold, a rise from the previous forecast of 165.9 million devices. By 2016, tablet sales worldwide will hit 282.7 million, IDC predicted.
While Apple's iPad has led the tablet charge, IDC attributes much of the future increase in sales to growing demand for those running the Android OS. Android will achieve a 42.7 percent market share in 2012, up from 39.8 percent in 2011, on sales of high-quality and affordable products from Samsung, Amazon and Google, said IDC.
Tablets running Windows 8 and Windows RT operating system will earn their own share of the market, up from a meager 1 percent in 2011 to 2.9 percent this year. The Windows ecosystem is expected to expand, however. By 2016, it could claim as much as a 10.3 percent share.
The growth in Windows device sales will erode the market share of both Android and iOS, IDC predicts, but the iPad mini has breathed some new life into Apple's tablet line. The mini's smaller form factor and lower price will be popular going forward.
IDC did not respond to our request for further details.
PCs Left in the Dust
The rise of tablets has offered new opportunities for product lines at companies such as Google and Amazon. For traditional PC makers such as HP and Dell, or processing companies like Intel, the trend has been largely damaging.
As more consumers turn to tablets for tasks such as checking e-mail, online shopping, reading, playing games and social media activity, the PC market is likely to continue its decline, said Vijay Rakesh, analyst at Sterne Agee. Buyers increasingly are opting for a tablet to replace an existing computer, and PC manufacturers will have to adapt.
"We believe tablets are a long-term structural challenge to PCs," he told the E-Commerce Times.
PCs still have one advantage that is stopping the tablet from wiping them out, however. Enterprise customers or consumers looking to do complex work on a device can't settle for a tablet. With newer models focused on greater productivity, though, IDC's prediction of sky-high tablet sales over the next few years might be spot-on, said John Feland, CEO of Argus Insights.
"One of the most cited failings of tablets in our research is the difficulty in getting any real work done, bridging that gap between consumption and creation," he told the E-Commerce Times. "Surface RT, with the Touch Cover, does that job admirably."
Tablet Winners
Although PC makers might be struggling with the dawn of tablets, the market is open enough for competitors to take market share from Apple, Feland pointed out.
"Our analysis has shown Apple losing ground in the battle for mindshare well before their market share started to fall. The recent launch of the iPad 4 and the iPad mini have yet to garner the same response from the market as prior launches," he said. "While it is the top rated 7-inch tablet, the volume of response shows that the pricing premium is hurting adoption in a segment where the experience gap between iPad and the competition is closing."
IDC also opened the door for Android and Windows to have a greater presence in the tablet space. That demand could be visible as soon as this holiday season, Feland predicted.
"While the landscape is getting confusing for consumers this holiday season, the default is no longer just buy and iPad. With Android consuming the lion's share of the market and Microsoft starting to nip at the heels of Apple in mindshare, unless the next release unpacks more magic, Apple's slide will accelerate," he said. "Chances are we'll see the market begin to segment into usage-based models, the same evolution we saw in PCs."
As the market grows, devices are becoming more catered toward specific markets, such as entertainment, education and enterprise. That's only going to heat up the competition going forward, Feland observed.
"This next year will bring big changes as adoption of Windows 8 RT devices ramp and consumers start looking beyond the iPad and price as their main decision criteria," he said.