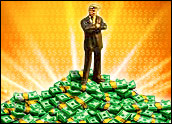 He was into cloud computing before cloud computing was cool. Before that, he'd given the world its first real Web browser. He's a board member of eBay and Facebook, and he's invested in some must-watch Web 2.0 companies: Digg, Twitter, Ning, etc.
So when Marc Andreessen announced on his blog Sunday night that he's raised US$300 million in a lousy economy to launch a new venture capital firm for tech startups with longtime partner Ben Horowitz, the tech industry — in fact, the business world, in general — roused itself from a long July 4 holiday and paid attention. Andreessen Horowitz doesn't have a Web site yet, but it does have some general guidelines for how it plans to invest and what it wants to invest in, and that clicking sound you hear is entrepreneurs revising PowerPoint business plans and trying desperately to dig up contact info on the new VC in town.
"The process of building a new technology company is changing rapidly," Andreesen wrote on his blog. "For example, many of the best new technology companies require far less money up front to build the first product, but far more money later to scale into today's enormous global market, as compared to historical norms. We intend to not only embrace these changes but drive them forward as hard as we can."
New Rules of the VC Road
Andreessen's blog post laid out some specifics regarding the firm's investment capabilities and philosophies: the chance to invest from $50,000 to $50 million in companies, including those at seed-stage level; general partnerships limited to just Andreessen and Horowitz, at least at the beginning, and no board membership for either partner in raw startups.
"In fact, in many cases, we don't even think today's raw startups should have boards," Andreessen wrote.
Among the industry segments the VC firm believes it has some experience in and that show continued potential for growth: consumer Internet; cloud computing (Software as a Service); mobile software/services; software-powered consumer electronics; infrastructure/applications software; and other aspects of backbone products including networking, storage and databases.
"Across all of these categories, we are completely unafraid of all of the new business models — we believe that many vibrant new forms of information technology are expressing themselves into markets in entirely new ways," Andreessen wrote.
When it comes to choosing management teams and the people who could lead these startups to become the next Googles, Apples or Twitters, "we are hugely in favor of the technical founder. We will generally focus on companies started by strong technologists who know exactly what they want to build and how they are going to build it," said Andreessen. "We are hugely in favor of the founder who intends to be CEO. Not all founders can become great CEOs, but most of the great companies in our industry were run by a founder for a long period of time, often decades, and we believe that pattern will continue."
Reaction From CEOs, Entrepreneurs
Andreessen is one of the few technology players who "is a brand in and of himself," according to Matt Hulett, a Seattle-based serial entrepreneur whose resume includes management/founder roles at Expedia, Atom Films and Real Networks.
"I don't think it would be difficult for a guy of that caliber to raise money. If traditional funds can still raise money, Marc Andreessen certainly could," Hulett told the E-Commerce Times.
The Andreessen Horowitz manifesto suggests a step into the VC Wayback Machine of the mid-1990s, said Hulett, now chairman and CEO of online ad network Widgetbucks.
"The words 'old school' popped into my head," he said. "He talked about the CEO being important, being focused on consumer Internet — it reeked of a guy who believes in the model that made him successful at Netscape. It's almost a classic Web 1.0 approach. Usually you see VCs put in their own management teams at some level, and for him to say any stage investment, consumer Internet and focus on CEOs — those are three real unusual statements."
Andreessen's reputation in the tech world is of such sterling quality that "there are a thousand entrepreneurs in Silicon Valley who would take [his] money at a lower valuation just because it would be such an honor to work with Marc," Redfin founder and CEO Glenn Kelman told the E-Commerce Times. "A friend of mine at Mobshop said Marc was one of the best board members he'd ever had."
Andreessen's focus on technology-driven entrepreneurs, Kelman said, is part of a broader movement led by Founders Fund, a San Francisco-based VC firm (its biggest bet: Facebook) that makes deeper commitments to those who write the software or develop the hardware at startups.
"When I first started in this business, I'd heard from the big names on Sand Hill Road that management was interchangeable, but now that startup costs have dropped and teams are more likely to remain small and nimble, the technical founder is often the best possible CEO, " Kelman said. "Vision, technical savvy and speed have become more important than general management ability and financial expertise. The world needs more passionate investors right now — not more bean counters or team builders. It's a good thing."
Gambling on a Track Record
"Basically, he's one of the major stars in the Internet firmament," Tim Bajarin, president of Creative Strategies, told the E-Commerce Times. "He has shown that he has placed really solid bets over his career, as well as helping define the world of the Internet. If I were a financial institutional fund, and I had a chance to bet with him, I wouldn't even give it a second thought."
Andreessen understands all phases of the industry — not just the consumer-facing side but the infrastructure-heavy back end as well, Bajarin said, "and both of those are very critical for next-generation Internet services and Internet applications."
However, Bajarin noted that talk of rewarding passion and placing tech-developing founders in leadership positions is nothing new among the denizens of Sand Hill Road in Silicon Valley, the famous "VC Row" of investment gurus who helped launch the likes of Netscape, where Andreessen built his famous browser.
"[VCs] look for passion in the founders," said Bajarin. "They look for intelligence, management skill sets — and usually when they invest in companies, they believe that guy is critical to the company, so they lock them into fairly long-term contracts."