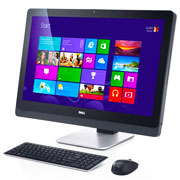 Worldwide PC sales plunged during the first three months of the year, the worst quarterly decline since 1994, according to research firm IDC.
PC shipments have been declining recently thanks largely to the rise of mobile devices, but the first quarter of 2013 was as bad as it's been since IDC started tracking the market. PC makers shipped 76.3 million units around the world during the past quarter, a 13.9 percent drop from the same time a year ago.
HP barely kept its top spot on the PC manufacturer leader board, but its worldwide shipments declined more than 23 percent from last year. Lenovo nearly closed the gap with HP, and was the only major vendor to see shipments rise. It now has a 15.3 percent share of the global market, compared to the 13.2 percent share it had a year ago.
"Lenovo is doing well because their business model fits well in the low margin and high volume market," Mikako Kitagawa, principal analyst at Gartner, told the E-Commerce Times. "At the same time, they are able to maintain good quality brand recognition in the professional market."
The overall U.S. PC market was "dismal" during the past quarter, according to IDC, with quarterly shipments at their lowest point since the first quarter of 2006.
IDC did not respond to our request for further detail.
Patience on Windows 8
The most recent quarter was the first full one out of the gate for Windows 8, Microsoft's revamped operating system, but the makeover doesn't seem to have invigorated the market.
"The Windows 8 launch was lackluster at best, with a dearth of new apps and a lot of the so-called cool, new PCs that were supposed to appear shipping late," Michael Silver, research vice president and distinguished analyst at Gartner, told the E-Commerce Times.
That is only leading to frustration between hardware and software providers and the customers, said Kitagawa.
"There are frustrations among OEMs and end users," she noted. "OEMs are frustrated by Microsoft's slow response to the slow sales of Windows 8. Customers are frustrated because Microsoft did not communicate well for the new user interface. Microsoft should improve its basic communication skills with OEMs and customers. The market is changing and they need to change their mentality of being a dominant player."
Still, Microsoft's Windows 8 launch can still be considered in a transitional period. The company needs to be aggressive in convincing consumers it is more than just a pretty new interface, said Silver.
"Microsoft certainly still has some opportunity if it comes out with an update to polish Windows 8 up for this year's holiday season, and new processors coming from Intel later in the year should significantly improve performance and battery life," he acknowledged. "But Microsoft also needs to drastically improve its marketing and positioning against iOS and the iPad to succeed."
Finding the Right Formula
Microsoft isn't alone in hoping to combat a plunging PC market. Many of the pioneers of the industry are trying to figure out how they can save their ship from sinking. Many are hoping to find the right formula by filling a specific niche in the market, said Avi Greengart, research director of consumer devices at Current Analysis.
"Some are focusing on the business market," he told the E-Commerce Times. "Others are focusing on geographies where consumer PC purchases are more robust, or on market niches like gaming or workstations, which do not necessarily track the overall market. Others are investing in mobile or simplified computing platforms. Some are trying all of the above."
The most successful strategy right now seems to be cornering an emerging market, said Ben Bajarin,director and founder of Creative Strategies. While most of the top PC makers have watched their sales tumble recently, Lenovo alone watched its shipments jump slightly year over year largely in part to the company's popularity in China.
"The best thing companies can do right now to bolster PC sales is have a wide variety of product mix, regional focus and lots of price points," he said. "With regional focus, China is what is helping Lenovo the most."
Most importantly, though, traditional PC makers are going to have to accept that consumers want mobile devices. Adapting to that trend will be critical for any PC maker that wants to remain a leader in the consumer space, Bajarin added. "Carving out a place in mobile is necessary for everyone's future."