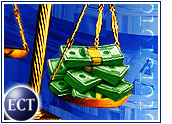 In one of the biggest e-commerce mergers of the year, online stock-trading site Ameritrade (Nasdaq: AMTD) said it would acquire privately held competitor Datek Online Holdings for nearly US$1.3 billion in stock.
The merger catapults Ameritrade to the top of the online brokerage marketplace in terms of trading volume.
Ameritrade said the deal will immediately pay off financially as well, providing positive cash flow and earnings for its sagging bottom line by the close of the current fiscal year, which ends in September.
The timing could not have been better. On Friday, just before Ameritrade emerged the winner of a private auction to acquire Datek, the company warned it was lowering its own financial outlook for the current quarter.
Three Plus Four
Under the deal, which combines the third- and fourth-largest online brokerage firms behind Charles Schwab (NYSE: SCH)

and E*Trade (NYSE: ET)


, Datek's venture backers will receive 50 percent ownership in Ameritrade.
Ameritrade shares rose on news of the deal, trading up about 1.5 percent early Monday to $6.40.
In a conference call, Ameritrade CEO Joe Moglia, who will retain that title after the merger, said the resulting firm will be an online trading powerhouse catering to active traders.
The Ameritrade name will remain, Moglia said, adding that decisions about whether to keep the Datek brand alive and where jobs might be cut after completion of the merger are still being made.
Experienced with Mergers
Moglia said the same internal team that helped integrate National Discount Brokers (NDB) into Ameritrade after the $154 million takeover last year of NDB is working full-time on the new merger. Moglia noted that Ameritrade has retained 98 percent of NDB's customers since the merger.
"We're going to take the best of both franchises moving forward," Moglia said, adding that a decision about which trading platform to use has yet to be finalized. "This is a complex merger, but we have experience that will pay off. We were surprised by some of the things that came up with NDB, but because those things happened, we're better prepared now."
The resulting company will have 2.7 million customers, who completed an average of 164,000 trades per day in the first quarter. That daily total will put Ameritrade ahead of Schwab, which conducts 148,000 trades per day, and E*Trade, which handles 110,000.
Admitting that the online brokerage race is a tight one, Moglia said Ameritrade would focus on maintaining its industry-leading profit margins by keeping costs and prices low.
Analysts said that because there is little differentiation among online brokers, diversification strategies such as those E*Trade has undertaken to establish banking and mortgage services are an essential ingredient for success.
Layoffs Loom
Edward Nichols, chairman and CEO of Datek, who will not have a formal position with the new company, said details on job cuts and other changes will be made over time.
"We have a responsibility to communicate clearly with our employees before we make our plans known," Nichols said in the conference call. The companies said customer care centers and marketing are two obvious areas of overlap.
Ameritrade will also get about $100 million in cash on Datek's balance sheet. Jersey City, New Jersey-based Datek raised $300 million in capital from a host of private investors late in 1999 and was said to be weighing an IPO of its own as recently as late 2001.