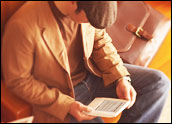 Amazon has reportedly acquired Touchco, a start up company that focuses on touch-screen technology, according to a report in The New York Times that cites a person briefed on the deal as a source.
Amazon does not comment on rumors or speculation, Amazon spokesperson Mary Osako told the E-Commerce Times.
Amazon will merge Touchco's technology and staff into its Kindle hardware division, according to the Times. Its technology has not yet been developed as a commercial product, and according to its Web site, the company is no longer doing business "as of January 2010."
Assuming the account is accurate, it appears to be a reaction to the perceived threat of Apple's forthcoming iPad. Interactive screen technology is the hallmark of Apple's mobile devices, and the iPad, according to the specs unveiled last week, will be no exception.
Enhancing the Kindle
Based on what is known about Touchco's technology, its integration into the Kindle, Amazon's popular e-reader device, will enhance it in several ways. Presumably, Touchco will add a touch interface, said Rich Buttiglieri, usability consultant for Bentley University's Design and Usability Center.
"This interaction feature alone is what makes the iPad so engaging to use," he told the E-Commerce Times.
The Kindle could also use a faster refresh rate for the "liquid paper" display, said Buttiglieri. "Today it is very slow to refresh, which gives the impression of a cheap LCD handheld toy." Also, a color version of the "liquid paper" display would be nice.
Too Late
Of course, it may well be that Amazon's defensive maneuverings have come too late. The iPad isn't even generally available, but analysts are already projecting huge sales. For example, Needham & Co. has predicted that Apple will sell two million iPads this year and an additional six million in 2011.
That is because there is more to the iPad than just touch technology, says Douglas Elwood, vice president of Widmeyer Communications. "The iPad distinguishes itself not by its touchscreen or through its color display, but rather by its impressive array of features and applications," he told the E-Commerce Times.
"Most importantly, the capabilities of the iPad allow it to infuse traditional media such as books, newspapers, or magazines with additional options that transform them into something that is entirely new and provides users with a true — and unique — experience."
The iPad has the potential to be adopted as the device of choice in several industries, including healthcare and gaming, Elwood said.
It "will streamline processes and provide stakeholders tremendous access in an innovative format," he predicted.
Amazon's purchase of Touchco is a strategic move — almost a move of desperation to get in pace with what Apple is doing with the iPad, Giovanni Calabro, VP of user experience at Siteworx, told the E-Commerce Times. "If you look at the iPad, Apple has done a great job in paying attention to what the reader really needs — text sizing, touchscreen features, email management capabilities, Web accessibility. When you look at Kindle, it's still a monochromatic device, and you have to click a button several times just to turn the page of a book."
Many Competitors, Big Market
On the other hand, there is an equally viable case to be made that the iPad will not suddenly become the e-reader market maker that it is presumed to be, said James Brehm, senior consultant and director of business development at Frost & Sullivan.
"I anticipate that Amazon will be competing with a plethora of devices out there — there were at least 30 at CES this year — all with different distinguishing features, he told the E-Commerce Times.
Amazon is the market leader in North America in terms of shipments, "so it doesn't surprise me that they are investing heavily in the device — I think they would do so even if there were no iPad."
Competing on Price
Indeed, the e-book reader market is about to explode, a recent Yankee Group forecast suggests, creating enough room for many providers.
At the same time, the report predicts that the average price for the e-reader is set to drop — a development that would give the advantage to the Kindle, at least in a Kindle versus iPad fight.
Yankee Group forecasts that the U.S. e-book reader market will grow from US$1.3 billion in revenue in 2010 to $2.5 billion by 2013. The average price of e-book readers is projected to decline by roughly 15 percent per year for the next five years, resulting in a 55 percent increase in the adoption rate year over year.
The sweet spot price, according to the Yankee Group, will be $150 — a far easier drop for Amazon to make from its current lowest price of $259 than the iPad.