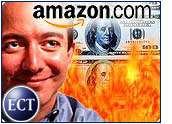 Amazon.com (Nasdaq: AMZN) chief executive officer Jeff Bezos has filed to sell 300,000 shares ofAmazon stock — under a recently enacted rule designed to allow executivesto sell company stock at fixed intervals without violating insider-trading rules — according to a regulatory filing made with the U.S. Securities and ExchangeCommission (SEC).
Bezos' move to sell stock at fixed intervals falls under SEC rule 10b5-1, which took effect October 23rd. The rule addresses the issue of insider trading liability in connection with a trader's "use" or "knowingpossession" of material, nonpublic information.
The rule enables executives to set up a sales plan in advance, so that salescan be made under circumstances where it is clear that confidential companyinformation was not a factor in the decision to trade.
Defensive Move?
Amazon spokesperson Bill Curry told industry press that Bezos' new sales plan, filed under Form 144, was put into place after a three-day window that Amazon imposes upon itself, during which insider sales are not allowed. That window takes effect at the time earnings results are announced by Amazon.
According to the SEC form, the actual stock sales must take place within three months of filing the form and, if the securities have not been sold, an amended noticemust be filed.
Reportedly, the Amazon shares that Bezos intends to sell have a current marketvalue of US$4.75 million, but represent less than 1 percent of Bezos' total shares.
Unresolved Issues
Although the filing may help Bezos avoid further SEC inquiries into his stock sales, it does not eliminate any insider-trading questions theSEC may have regarding Bezos' February stock sales.
Bezos sold about 800,000 shares of Amazon stock, valued at approximately $12 million, in February. The sale was questioned by the SEC and others because it came only days after Amazon received a preview copy of a negative analyst report.
Curry said at the time that the company was confident that there was no cause for action from the SEC.
"We had a preview version (of the report) that was riddled with errors,"Curry said. "We were fully aware that there was nothing new in it."
Analyst Power
According to company officials, Amazon was questioned in April by the SECregarding Bezos' February stock sales.
Notably, after Suria's February report was released, Amazon shares actually rose. However, Amazon shares fell 19 percent when asimilar report was released by Suria last June, hitting what was then a 52-week low.
On Tuesday, a report from a Prudential Securities analyst repeated a sellrating on Amazon's shares, saying they are a "high-risk" investment,and putting a price target of $9 on the stock. Amazon shares fell $1.17 at theend of trading on Wednesday to close at $15.01, down nearly $2 since thePrudential report was released.