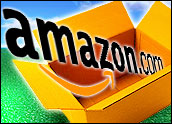 Amazon could be the next retailer to jump into the tablet marketplace in time for the holiday season, according to information from The Wall Street Journal.
The online retail giant could be set to release its tablet by October, in addition to two new Kindle e-reader models.
Amazon's entrance to the market has been rumored for some time, but sources close to the company reportedly told the Journal a fall release date is on the horizon. Most details are unknown, but the paper is reporting it will probably have a 9-inch screen and won't be designed by Amazon itself — the company will use an Asian hardware manufacturer. It will run on Google's Android platform.
Amazon didn't respond to the E-Commerce Times requests for comments by press time.
Does It Have a Chance?
There is some concern about Amazon's chances in the saturated and slightly volatile tablet marketplace. It will face Apple's iPad, the leader in tablets, as well as products from companies including Sony, HP, Samsung, Dell and Motorola.
"We believe there is some risk here for Amazon as it enters a crowded tablet market. New tablets equal incremental investment dollars that are further removed from Amazon's core retail business," wrote analyst Anthony DiClemente and associates in a note regarding the report for Barclay's Capital.
Wince most competing tablets, Apple's especially, are designed and manufactured by companies whose primary function is to produce hardware, Amazon could struggle matching the products in design and sophistication.
"Early on, any vendor has to provide a hardware device, and what Amazon does with the hardware platform is really going to be the question mark," Jeff Orr, senior practice director for mobile devices ABI, told the E-Commerce Times.
Consumers may struggle with the idea that Amazon could be a competitor in hardware devices among the likes of Apple or Samsung.
"We don't see a lot of history here when we start talking about open computing devices. It's a little different environment and not quite a natural extension of their products. It's a question of whether people are going to consider Amazon a credible player, so they're going to have to put together a complete solution, including the hardware platform," said Orr.
Another struggle could be getting the product to sell in stores or other outlets across the country. Although Amazon has its online platform, it could be tough to convince competitive retailers like Best Buy or Target to sell an Amazon tablet, a product that will make consumers better shoppers.
"The weakness Amazon has is they're going to have a tough time getting them on shelves, since it's a great shopping device," Rob Enderle, principal analyst at the Enderle Group, told the E-Commerce Times.
Retail Power to the Rescue
Still, Amazon could use its retail prowess and app store, which is already in place, to gain footing and become a solid competitor.
"While hardware is often a lower-margin business and the tablet market is becoming increasingly competitive, we believe an Amazon tablet would further boost Amazon's digital offerings and its app store," wrote Barclay's DiClemente.
That power is where Amazon holds potential advantages that other tablets could find difficult compete with.
"The back end is where pretty much every tablet maker has struggled, and in that aspect Amazon has the best chance. They've got a storage product, the Amazon store with music and movies, the Kindle book service, and an app store already in place, so they've got advantages there," Enderle said.
Providing content can be an area where the company shines.
"We have to step back and look at what Amazon has become. Originally being an e-commerce book seller, they've transitioned into an e-commerce marketplace, this ecosystem with buyers and producers, with access to not only books but movies, TV shows, video content. It suggests they have the wherewithal to be a content center the same way that Apple has been with its iTunes service," Orr told the E-Commerce Times.