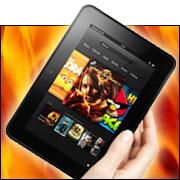 Amazon this week unveiled a new program designed to draw third-party developers to the company's platform.
Known as "Appstore Developer Select," the program offers incentives such as promotional boosts to developers that optimize their apps or games for the Amazon Appstore and the Fire OS mobile operating system on which the company's Kindle Fire devices run.
"Mobile app developers have told us that getting their apps discovered across the numerous devices customers are using is one of their biggest challenges," said Mike George, vice president of Amazon Appstore, games and Cloud Drive. "With the Appstore Developer Select program, we're addressing these discoverability concerns by providing developers with enhanced merchandising opportunities."
An Array of Benefits
To be optimized for the platform, apps must be available to the Kindle Fire and the Amazon Appstore, render natively in high definition and span the entire screen without distortion or stretching.
The makers of qualifying apps will then receive benefits from Amazon, including 500,000 free mobile ad impressions across the Amazon Mobile Ad Network and 25 percent credit back on purchases of Amazon Web Services products, with a maximum credit of US$500 per year.
Developers can also receive the opportunity to award first-time purchasers of select paid apps with a bonus 250 Amazon Coins, the virtual currency worth one cent per coin that allows Amazon users to purchase apps without having to use a credit card.
Qualifying apps will also receive premium placement in the Amazon Appstore, meaning the apps could be featured on curated lists of top apps on the Appstore homepage or as ads on the Kindle Fire.
Amazon did not respond to our request for further detail.
'They Have to Compete'
While Amazon's new incentive program is certainly appealing to developers, it can also be a winning strategy for the company, said Trip Chowdhry, senior analyst for Global Equities Research. If the Kindle Fire is going to sell against the iPad and other Android tablets, it's essential that Amazon offers an app marketplace just as good or better than those of its competitors.
"Amazon has built out an unparalleled retail ecosystem, which is part of the reason it's been able to have success rolling out its tablets and e-readers," Chowdhry told the E-Commerce Times. "But the Kindle Fires are up against the best devices on the market now, and they have to be able to offer more than just Amazon's digital content — they also have to compete on the app level."
The company has been playing from behind in that regard, but has always known it had to add a little extra to its offers in order to draw developers, said Aaron Watkins, co-founder of Appency and analyst at GigaOM Pro.
"Amazon's Appstore has always been a little easier to work with than iTunes or Google Play," Watkins told the E-Commerce Times. "They've been more approachable as far as helping developers get featured if their app is worth it. With the major app stores, sometimes it feels like you have to know somebody who knows somebody to help with that discovery."
Aiding Discovery
The Appstore Developer Select program is a natural extension of that willingness to work with developers, said Watkins. The program creates a win-win situation — with marketing boosts and cash back, developers have a greater chance at earning big from their apps, and Amazon is creating a more robust and consumer-friendly app marketplace.
"Apart from the big two, app stores aren't going to be successful until a consumer can come in and notice that these Amazon or Windows or other OS products also have the most popular apps of the day," Watkins noted. "That's essential, because the app store is essential to the success of the operating system as a whole."
So far, while the Fire OS has done well for Amazon, developers are often still having trouble generating as much revenue as they would in iTunes or Google Play, Watkins added. Still, Amazon has put a huge effort into changing that, and the company needs to spread the word if it wants more developers to get on board with the Appstore Developer Select Program.
"In addition to the incentives, Amazon needs to promote themselves better and alert programmers that it's not a huge leap to optimize apps from Google Play to Amazon," he added. "Amazon has worked to create an environment where all kinds of developers feel free to create, and it needs to spread the word."