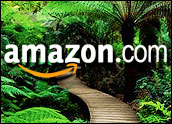 Amazon is making moves to beef up its "Travel" section. The behemoth bookseller has signed an agreement with a travel search engine to help its customers find and discover the best travel values.
SideStep announced today that it will provide its travel search engine to Amazon's travel store beginning in early next year. SideStep searches more than 100 travel sites — airlines, hoteliers, and rental car companies, plus online agencies and consolidators — to deliver a comprehensive selection of travel choices.
SideStep boasts more than 4.7 users per month and alliances with leading travel companies such as JetBlue Airways, American Airlines, Hyatt Corporation, Best Western, National Leisure Group and Thrifty Car Rental.
A Timely Move
"We are pleased to announce that SideStep will be partnering with Amazon Services to promote SideStep's travel search engine to Amazon.com customers in our travel store," said Jeff Blackburn, Amazon.com's vice president of Business Development.
"Starting in early 2006, our customers will be able to find and discover the best deals on airline, hotel, and rental car offerings using this unique approach to travel search," he said. Financial terms of the deal were not disclosed.
Market research firm PhoCusWright forecasts that U.S. online leisure/unmanaged business travel bookings will grow from US$65 billion in 2005 to $94 billion in 2007.
PhoCusWright also projects that 42 percent of all U.S. travel purchases will be made online in 2005, increasing to 55 percent by 2007. That makes Amazon's decision to team up with SideStep a timely move.
The Power of Niche Search
Jason Dowdell, founder of MarketingShift, the blog focused on media research and technology, told TechNewsWorld that meta search engines got a bad name in the past because they merely scraped the major search engines and aggregated results without providing any additional value beyond seeing the results listed on a single page. That is changing.
"Now, sites like SideStep focus on a niche of data, in this case the travel sector, and make an algorithm that's focused on that industry and no other," Dowdell said. "So the one-size-fits-all algorithms at work on Google.com and Yahoo.com need not apply and thus the end user gets better results."
The Billionaires of Tomorrow
Because SideStep only indexes a small set of commercial travel sites, Dowdell said it doesn't require a massive infrastructure like a typical search engine. Dowdell concluded that SideStep adds value and predicted that the masters of niche data are the billionaires of tomorrow.
Indeed, SideStep is already making a name for itself. The company has been named one of Time magazine's "50 Coolest Web Sites" and declared "Best of the Web" by Forbes. The company is privately held and has raised more than US$17 million in funding from Trident Capital and individual investors.
"Small nimble startups are able to master these niches in ways the big players like Amazon can't," Dowdell said. "Then they get snapped up by the big guys because it's easier to buy a great data-centric technology company than build one."