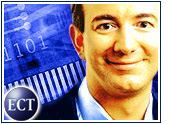 Amazon.com, perhaps the premier e-commerce site, announced late Tuesday its first-ever full-year profit. According to the company's balance sheet, 2003 net income totaled US$35 million. In 2002, despite booking a small fourth-quarter profit, the company recorded a full-year net loss of $149 million.
"Our commitment to year-round free shipping and lower prices continues to be a win-win for our customers and Amazon.com," Amazon CEO and founder Jeff Bezos said. "In addition to purchasing thousands of $29 DVD players this holiday season, customers also bought Tibetan yak cheese, pomegranate molasses and zero card cheese straws."
Boyd Peterson, vice president for consumers, media and entertainment at the Yankee Group, told the E-Commerce Times that Amazon's overall numbers indicate the company's growth and maturity as a retailer.
"They have had successful product-line expansion and international expansion where other companies [in their space] have not," Peterson said. "They have proven to be very mature and are continuing to show momentum in the right places."
Branching Out to Success
Yankee Group program manager Paul Ritter told the E-Commerce Times that Amazon needed to expand beyond low-margin items like books, CDs and DVDs because turning a profit in those areas is pretty much impossible.
Instead, he said, Amazon "had to branch out into higher-margin items, such as electronics, clothing, and house and garden, and become a one-stop shop for consumers, an online Wal-Mart. It's difficult to tell what the actual cost of items like jewelry and watches are in terms of gross margins."
In addition, Amazon has signed up partners, such as Target and Circuit City, that have chosen to let Amazon run their online operations, Ritter said. Although some of those partners, such as Circuit City, have their own Web sites, Amazon still handles and manages their back-end business processes.
The Online Wal-Mart
For his part, Peterson said Amazon has moved past rivals like BN.com and Buy.com. Because of its heft and product selection, he added, the company now rivals Wal-Mart in the retail space.
"Given the taxonomy of Amazon.com's Web site, consumers might come to the site for a DVD and say, 'Oh, wow, you can get cheese here too?'" Peterson said. "[Amazon.com] has applied the superstore concept to e-commerce and is now the de facto e-commerce superstore."
Moreover, it may be difficult for other e-commerce sites to compete against Amazon at this point, he said.
"You could speculate that there might not be room for two mammoth stores like Amazon.com. It's like the big store in a small town. When you've built a new Wal-Mart, it's hard to justify putting a Kmart next to it."
The eBay Challenge
However, according to Peterson, there is one site that already competes well against Amazon: eBay. Unlike Amazon, eBay has evolved from traditional classified advertising and online auctions and has a different underlying distribution model. Also, eBay does not carry any inventory.
Despite their divergent approaches, Amazon.com and eBay are converging in consumers' eyes both as companies and as brands — and, in doing so, are pulling away from the rest of the e-commerce pack. After all, Peterson said, both companies have a reach with which other online retailers cannot compare.
EBay's business model has the potential to hurt Amazon in the future, particularly in areas where Amazon counts on high margins for profits. For example, Ritter said, people frequently use eBay to judge fair prices for many goods sold in large quantities and also to gauge prices for selling their own products.
Getting It Right
Although eBay is a potent challenger, Amazon seems to be making a lot of the right business moves, Peterson said, adding that the company has had several opportunities to stumble so badly that it would not recover. Although the company's ongoing survival surprised many at first, that is no longer the case.
Amazon.com has been applying fairly disciplined business practices while expanding its product line, boosting its international presence, containing distribution costs, and managing its inventory and turnover with an eye toward long-term viability, Peterson noted.
"A disciplined approach to inventory is important at Wal-Mart," he said. "It's equally important at Amazon.com."