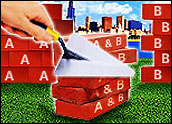 Few e-commerce companies tread their path entirely alone. The majority rely on partnerships with portals, search sites, fellow merchants and brick-and-mortar retailers to survive and thrive in a fiercely competitive environment.
However, forging partnerships that work well is a tricky business, a tightrope walk with myriad pitfalls, from establishing a balanced agreement to accurately measuring the success or failure of a deal.
Companies that have forged e-commerce partnerships say the line between success and failure is often a thin one, but new technology and the hard lessons learned by observing failed deals are helping to pave the way for partnerships in which everyone truly wins.
Imitation and Flattery
The undisputed king of online partnerships, at least so far, is Amazon.com. The e-tailer has used its own success to convince brick-and-mortar companies ranging from Borders to Target to link arms with it. Amazon's partnerships work, Forrester Research analyst Carrie Johnson told the E-Commerce Times, because the company brings powerful leverage to the table.
"They were the first to figure out the e-tail model, from the sales end to the fulfillment tasks," Johnson said. "That made them an appealing partner, and they were able to bring a lot of good companies into the fold."
The task now facing Amazon is to remain on top because many of its partnership deals will come due in the next couple of years and the landscape is far different than it was when the deals were forged. "They have a lot more competition than they ever did before," Johnson said.
Risk and Reward
On the other side of the equation, many brick-and-mortar outfits are seeking to ensure that pacts with a variety of online partners work to their advantage.
At Target Direct, for example, many online partnerships are handled through what the company calls sitelets — customized versions of the Target Web site that use a specific URL, such as Target.com/music or Target.com/baby.
Those sites, which get heavy promotion as part of partnership deals and which usually are paid for by merchants that work with Target to develop content, become stand-alone entities. That separation makes it easier to track the sites' success, according to Scott Heimes, senior manager at Target Direct.
"Because traffic is driven to the sites directly, it makes it a lot easier for us to measure their success," Heimes said at the eTail 2003 conference in Boston last August. "We still have a lot to learn, but it's been effective in a lot of instances."
Expand and Conquer
Heimes said sitelets will play a major role in Target's online strategy for 2004, which still includes a close relationship with Amazon for online sales but also has adopted more of a multichannel approach, using the Web to do more than sell directly.
"We find customers enjoy interacting with us through these sites," he said. For instance, a test site known as Studio Red that offered music and video downloads drove purchases at Target stores and online while also building the Target brand with a key audience segment: younger shoppers.
Because the sitelets are developed individually, they do not share the same look and feel as other Target pages. And because merchants are paying for sitelet development, they have some creative control. "We've had to sacrifice the universal navigation experience," Heimes said, "but so far, we haven't found that to be a problem."
Keeping Track
Still, for most companies, measuring the potency of online partnerships remains a daunting challenge. Numerous outsourcing providers have sprung up to help companies measure deal success, considering not only traffic and purchase rates, but also striving to discern which partnerhips are worth keeping and which are not.
For example, Michael Dell'Arciprete, vice president of marketing at Odimo, which runs Ashford.com and other specialty sites that sell watches online, said the top 10 percent of all online partners generate 80 percent of sales. In fact, while Odimo's online properties have some 10,000 partners of various types, 50 of those account for about 90 percent of sales.
Dell'Arciprete's advice is to think of affiliates as a fleet of commissioned salespeople. Those that are most effective should be rewarded most handsomely, but it may be worthwhile to keep the others on board as well.
"You'll find, if you take the time to look at what's happening, which sites send you not only customers, but the best customers," he told the E-Commerce Times. "Those are the relationships you most want to nurture."