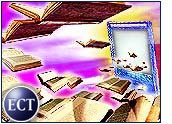 Amazon.com (Nasdaq: AMZN) launched an "e-Documents" store Thursday, offering consumers access to downloadable research reports, journal articles and magazine archives.
The Internet retailer said its new offering will focus initially on addressing the growing consumer demand for market research. The market research segment is currently a US$3 billion category and growing 30 percent annually, according to Amazon.
"It's hard to say yet whether this is a good idea for Amazon, because the selling of e-documents is still in its infancy," Morningstar.com analyst David Kathman told the E-Commerce Times. "I'm sure they're doing this because they want to get their hands in every area of e-documents and e-books, which make a lot of economic sense for Amazon because they don't have to spend any money shipping the documents."
Kathman added: "My feeling is that this will never be more than a niche business, but it could still be a relatively inexpensive way to add a little bit of revenue. Amazon needs all the help it can get, on both the revenue and profitability fronts."
Free Samples
Amazon is offering free white papers on a variety of topics to encourage readers to sample its e-document offerings. To read the white papers or any of the other e-documents available on the site, readers need to download and install a free copy of Adobe Acrobat Reader, which is available at Amazon and elsewhere.
Current freebies being offered include Cap Gemini Ernst & Young's "Exchanges in the New Economy: Transforming the World of Work," Yantra Corporation's "E-commerce Operations: The Extraprise Infrastructure," and Janus Technologies' "IT Asset Management: The Big Picture."
"In addition to market research, we plan to offer downloadable content from vertical markets like education, entertainment, travel and the medical and legal industries,"said Jeff Blackburn, general manager of the Amazon Worldwide Digital Group. "We're just scratching the surface in terms of the types of digital items we can make available for purchase online."
Pricey Offerings
Although some of the e-documents offered are geared toward consumers, others are clearly aimed at helping Amazon capture a share of the business-to-business (B2B) research market.
Among the more expensive offerings are AMI Partners' "2000 USMB: Market Overview," for $6,399; IDC's "Western European Web Spending 1999-2004 – Review and Analysis," for $3,500; and Zona Research's "Thin Clients, The Internet and Whales" for $895.
Less pricey offerings include Accenture's "When they want it done right: Creating customer-valued Websites," $2; Business Book Review's "The Wisdom of Teams: A BBR Summary: Creating the High-Performance Organization," $8; and Harvard Business Review's "Disruptive Technologies: Catching the Wave," $6.50.
Other companies offering research for sale through Amazon include AMI Partners, CIBC World Markets, Faulkner Information Services, Gartner, and Reuters Business Insight.
Courting B2B
Offering downloadable research reports is not the only way Seattle, Washington-based Amazon is wooing B2B customers.
Last month, the company said it would roll out an institutional sales program during the second half of 2001 that will allow consumers to make purchases on credit. Institutions and businesses will be able to set up accounts with multiple buyers and will be able to access order histories by purchaser. Amazon said it anticipated its institutional sales program will bring in $150 million over the next two years.
Also in June, Amazon announced that it is launching a software licensing unit that it says will enable customers to save up to 20 percent off full retail pricing.