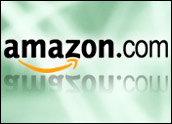 Amazon has introduced a new shortcut for consumers to pay for their purchases on Amazon.com and partner Web sites.
Amazon PayPhrase lets shoppers pick their own phrase — for example, "Knick Knack" or "Jack's Allowance" — and use it in lieu of entering a credit card number to make purchases. The phrase is accompanied by a pre-established PIN.
Amazon did not return a call from the E-Commerce Times in time for publication.
Beyond Amazon
The service will be available to all Web sites that accept Checkout by Amazon — the retailer's selection of payment options — including DKNY, Jockey, Patagonia, Buy.com, J&R Electronics and Car Toys.
Users of the new service can make purchases anywhere it's available without signing in or providing credit card information.
It offers the option of linking multiple phrases to the same account and establishing individual spending limits for them. This would let parents provide college students away from home with purchase allowances, for example, and they could monitor allowance activity and balances at the Amazon site.
Another setting allows parents to require their review and approval via email or text message before a transaction could be completed.
Just a Novelty?
For someone who's making a purchase anyway, the PayPhrase features are just interesting enough to encourage a bit of experimentation, said Andrea Belz of Belz Consulting.
There's no financial incentive to use it, though, she told the E-Commerce Times. "It's cute, but that's about as far as it goes."
It doesn't advance online retail technology very much, she observed.
Amazon already offers the same type of functionality on its own site with the 1-Click purchase feature. eBay has a similar offering. When these types of payment options emerged, they did revolutionize online purchasing, said Belz.
"Essentially, though, it appears as if PayPhrase is following the same model," she noted. "You still have to input your credit card or payment information for the first purchase, and you still have to remember something — in this case the phrase you picked."
Given the modest projections for holiday shopping this year, it's unlikely this option will increase online purchases, even at the margins, Belz said. "People are still being very careful about the money they spend, and this is not something that will change that mindset."
Security Issues
The PayPhrase system could conceivably leave consumers open to online fraud, given the propensity of individuals to choose obvious passwords. Hackers have become expert in guessing likely names or phrases — and they have applications that speedily do it for them.
On the other hand, depending on the phrase that's chosen, PayPhrase could circumvent some of those attempts, Roger Thompson, chief research officer at AVG, told the E-Commerce Times.
The right phrase could actually make people safer online, because "it would be harder to 'brute force' than a simple password," Thompson said.
A phrase that's exotic enough to stymie hackers, though, could also be difficult for the user to remember, he pointed out.