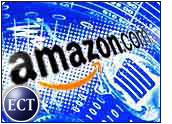 Amazon.com (Nasdaq: AMZN) picked up 74U.S. cents to $14.77 in morning trading Tuesday, after Goldman Sachs analystAnthony Noto reiterated a market outperfrom rating on the stock.
Amazon said earlier this month that its loss for the first quarter endedMarch 31st would be narrower thanpreviously thought, due to strong electronics sales.
Seattle, Washington-based Amazon predicted a pro forma loss of less thanUS$50 million, or 22 cents per share. The e-tailer also repeated its pledgeto post a profit this year.
After a tough first quarter, "results should get better," Noto wrote in aresearch note. A pickup in inventory turnover and "increasing visibility ofprofitability" will drive the stock higher, he wrote, adding that at currentprices, the shares provide a favorable risk/reward ratio.
First-quarter comparisons with last year are "difficult," wrote Noto, "giventhat early 2000 was a vastly different environment, in which e-commerce wasstill a heady sector." Comparisons will "get better" as the year progresses,the analyst wrote.
In addition, the company's new agreement withBorders will prove "extremely advantageous," Noto wrote. The deal,announced April 11th, calls for Amazon to manage the book chain's onlineoperations.
Amazon, according to Noto, can use its technological expertise,customer base and brand awareness to create similar alliances that "allow it to accelerate progress in existing categories or enter new categories at little incremental cost."
Apparel and travel, he wrote, "are two 'must-have' categories." According to Noto, airline site Orbitz, which is set to launch this summer, "would be an interesting travel partner."
In addition, Noto wrote that "Amazon is positioned to launch several newcategories in international markets to help drive additional growth andcontinue to build awareness of international markets launched late in 2000." Amazon opened sites in France and Japan late last year.
Amazon plans to report first-quarter results after the close of trading onApril 24th.