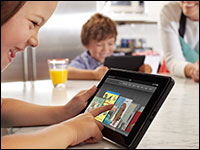 Amazon is enlarging its Kindle universe to expressly target children. It has rolled out Kindle FreeTime Unlimited, a service that offers several different types of content for children 3-8 years-old, including books, games, educational apps, movies and TV shows.
The monthly price for Prime members is US$2.99 per child or $6.99 for the family. Customers who are not Prime members can sign up for FreeTime Unlimited for a monthly price of $4.99 per child or $9.99 per family.
Child-Safe, Content-Rich Environment
Amazon is making FreeTime Unlimited available on the 7-inch Kindle Fire, the Kindle Fire HD and the Kindle Fire HD 8.9 as an over-the-air software update that will be delivered automatically in the coming weeks.
The service is an optional extension to Kindle FreeTime, which is a free feature on the Kindle Fire that provides parental controls such as Time Limits, which helps parents manage their kids' screen time.
The service has been stripped of in-app purchasing, advertisements and social media to make it child-safe and to avoid the possibility of kids inadvertently running up a huge bill. In addition, the content has been screened for age appropriateness.
There will be a wealth of product available for children to select. Games include Disney's Where's My Water? and Where's My Perry?. Books include both new and classic titles like Big Nate, Ivy and Bean, Phineas & Ferb, Shrek, and Kung Fu Panda. Movies and TV shows include Barney, Thomas & Friends, Bob the Builder, Fireman Sam and Angelina Ballerina, as well as Sesame Street, Spongebob Squarepants and Dora the Explorer.
Booming Market
The success of PBS Sprouts, Nickelodeon and other digital and cable networks targeted toward kids points to a growing market for content — particularly content that can be downloaded on Kindle devices, noted Rich Hanley, director of the graduate journalism program at Quinnipiac University.
"Amazon is simply seeking to create a vertical distribution space where it creates original content for distribution over its devices," he told the E-Commerce Times. "This will bolt kids to Amazon's devices as life customers, as once Amazon establishes itself in the pre-teen market, it can create demographically segmented products that tether a customer to Kindle devices for life."
Different Approaches
Amazon is hardly alone in targeting this demographic, observed Mike Plugh, a communications professor at Fordham University.
There are a lot of digital products competing for the children's market, he told the E-Commerce Times. "In addition to the regulars of Apple, Microsoft, Samsung, Amazon and Barnes & Noble, you find more highly specialized companies who only focus on children — like Fuhu and Leapfrog, to name a couple."
Fuhu has launched the Nabi tablet for children and supports the device with content from its Fooz Kids division, Plugh noted. Leapfrog is another well-known maker of children's technology with Tag and Tag, Jr. reading products and its new LeapPad2 tablet. It also makes its own proprietary content.
These companies take different approaches, said Plugh. Larger media and technology companies with established hardware and software divisions release an interface — like a tablet — and then open up a marketplace for content within their own walls.
"Smaller companies, like Fuhu and Leapfrog, rely on their specialization to sell themselves to parents who want a firewall between their children and the Internet and/or adult content," Plugh said.
Changing Patterns
Amazon's entry into the children's market highlights an issue parents have been grappling with since the Internet became ubiquitous: What does this technology mean to children's development?
"Children unconsciously learn new behaviors and attitudes as a result of interaction via new technology, changing their relationship to traditional literacy, schooling, and social environments," said Plugh.
"The same warnings were cast at the advent of television" he pointed out, "aimed in many cases at children's programming — and while the world didn't collapse around us, it's impossible to argue that our culture hasn't experienced dramatic change over the last few generations."